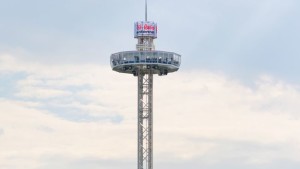 An 81 metre high Skyliner tower with panorama view of Stockholm in the middle of Eurovision village, and EuroClub access to all OGAE Fanclub members, those were some of the information SVT released this morning. Eurovision 2016 will be more of a party than seen before.
This year's Eurovision Song Contest to be held in Stockholm will involve the fans to a degree which haven't been seen before. This morning, Swedish host broadcaster SVT, revealed that all OGAE Fanclub members will be able to get access to EuroClub and as such party with the accreditated fans, press and delegations. Only OGAE members are mentioned in the article from SVT, OGAE fans are also allowed at the welcome and after party.
If you as an OGAE member want this access, you will be able to buy an accreditation which gives access to it all. In total 3000 is mentioned though.
Next to EuroClub will be Euro Fan Café which will consist of three rooms and four bars, including an out door one. The concept of having the two next to each other will create a synergy effect for the fans. The concept behind Euro Fan Café and also its schedule has been made by members of the Swedish OGAE Fan Club.
In Kungsträdgården where Eurovision Village will be located, an 81 metre high Skyliner attractions will be built. This area is open to everyone, and is generally the place where the local population get their Eurovision feeling. Access is free, but the big Skyliner will cost 100 Swedish kronor. It can take up to 60 people at a time, and will offer a panorama view over Stockholm.
Read more about the locations of Eurovision Village, EuroClub, Euro Fan Café and the opening ceremony in our previous article.