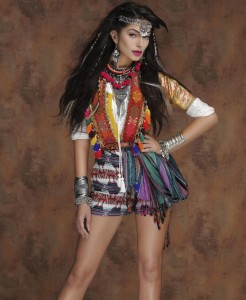 Minutes ago, Armenia announced their participant for the 2016 Eurovision Song Contest. The day before her birthday Iveta Mukuchyan was presented as the one who will represent Armenia. Grown up in Germany, Iveta is known outside her birth country.
Tomorrow Iveta Mukuchyan can celebrate her 29 year birthday, but today she probably have other things on her mind as the presentation of her as the Armenian representative for the 2016 Eurovision Song Contest just took place. The presentation took place in the local TV show called "Profession – journalist".
Sang Loreen's Euphoria in Voice of Germany
Iveta is born in Yerevan, Armenia on the 14th of October 1986, and thus has her birthday tomorrow. She however grew up in Germany to where her family moved when she was 5 years old. In 2012 Iveta took part in the Voice of Germany, a competition in which she got to sing the Swedish 2012 Eurovision winner Euphoria.
Armenia is now again the home country of Iveta as she decided to move back to her birth country to study at State Conservatory after Komitas in Yerevan. A year ago she was awarded the sexiest Armenian by El Style Magazine.
I'm very happy, thankful and honored to be chosen by the Public TV Company of Armenia to represent Armenia in Eurovision 2016. I love Eurovision and it's amazing to get a chance to represent my country on the big stage. Your support is very important to me, so I hope you will be next to me on this responsible and important journey.
Eurovision entry still to be chosen
The song which Iveta will sing in Stockholm, Sweden for the 2016 Eurovision Song Contest is still to be picked. Together with the presentation of Iveta Mukuchyan as the artist, Armenian broadcaster launched a selection open to songwriters. The deadline for submitting a suitable entry is set to the 13th of November 2015.
Last year Armenia also went for artists growing up abroad as a part of their Genealogy project. With the song Face The Shadow they made it to the final where they finished 16th.