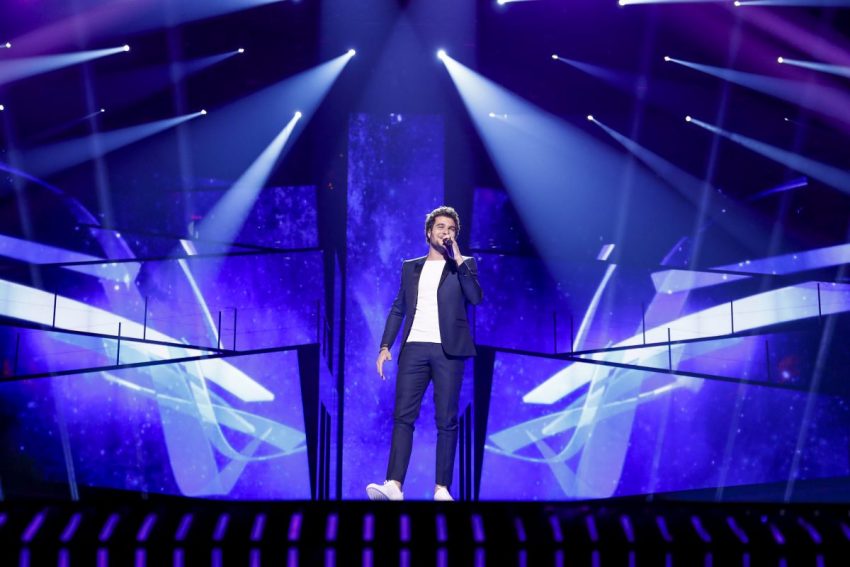 Tonight saw the first two rehearsals from the first of the permanent big 5 countries as they performed their entries on the Eurovision stage in Stockholm for the first time.
First to perform this evening was France.
France: Amir – J'ai cherché
Amir's first rehearsal saw no fancy effects. His stage is this year's standard blue, with white flashing lights. He is dressed in a grey suit with a white T-Shirt and white relaxed shoes. No back up singers were noticeable.
Amir is the star of this show and in the second rehearsal, there were more glossy lights on the stage. At one point some of the planets from the solar system came flashing towards the front of the stage.There were also reflections of pink and blue on the floor. The song is a loveable sing along but is losing some of its appeal on a large stage. Nothing about the performance at this time screams winner, but like the other acts, he will have time to analyse this first showing. Amir throws his hands out at the YOOOOUU chorus. He needs to have effects coming from them.
Spain: Barei – Say Yay!
Guess what, blue again, and Barei has a silver fancy dress on, not unlike Amandine from France 2013. Four cheer leaders, including ex Spanish finalist Brequette accompany her in the background and all is going well until Barei tumbles, gasp from press centre, music stops, but wait, its part of the show. Huge cheers.
Barei resumes and yellow lights start moving around, then some colour in a triangle shape on stage at last, pink,green.yellow .Barei or Hurray! Mirror technology is used at the end. This song needs to have a beat to feel. The music must be turned up ten fold.
On the second rehearsals fall, it was met with some boos, it's a one time only deal it seems. Music still needs to be louder but its a catchy little number that might do well for Spain.