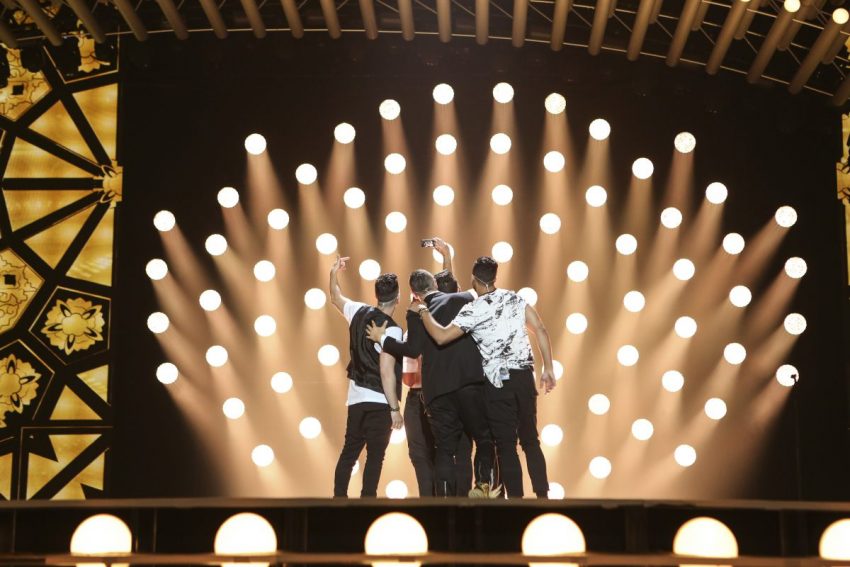 Israel will be performing 9th in the upcoming Second Semi Final this Thursday. The country is represented by Nadav Guedj with the song Golden Boy. Are there any changes since the country's first rehearsal? What is the impression left by the song amongst the other entries in the running order? We try to answer your questions reporting live from inside the hall of Wiener Stadthalle.
Again, I am not entirely sure of the thinking behind the running order; yes, we get an uptempo song after a ballad but the two songs, from Israel and the Czech Republic respectively do not sit comfortably together in terms of their musical styles. Nadav still sounds a bit nasal compared to the recorded version of the song but his vocal, as well as his dancing, performance are much improved today. At some point during the third run, the box of Nadav's microphone gets undone from behind his waist and he has to hold it while performing the dance routine. Despite being at an earlier stage in the rehearsals, Israel felt more impressive last time round they took to the stage. However this is a fun song – I expect it to be one of this year's big hits at Euroclub – and will probably make it to the final. The song receives a round of applause inside the press centre right after its last run.
You can read a report on Israel's first dress rehearsal here.
Israel has managed to qualify four out of the ten times it has been in semi finals and has not made it to a Eurovision final for the last four years.
Our video from Israel's second rehearsal can be seen below.