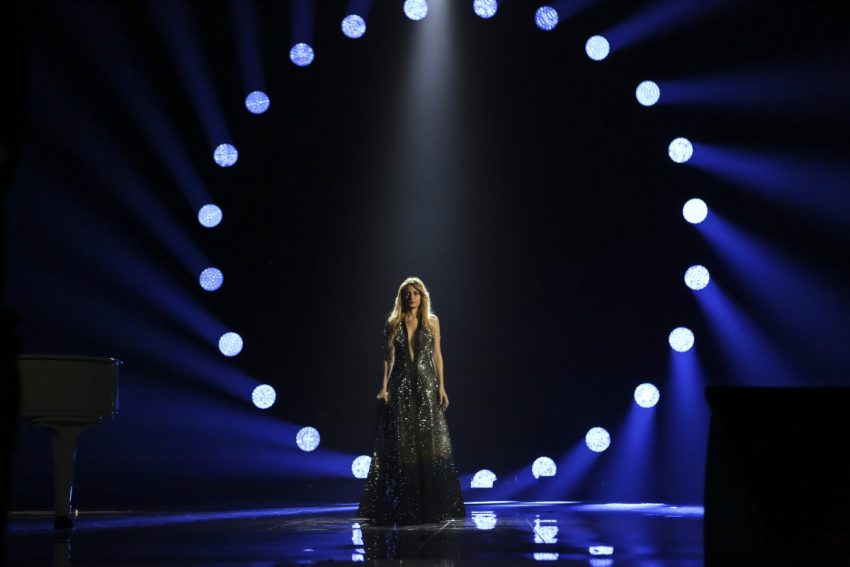 Greece will be performing 6th in the upcoming First Semi Final this Tuesday. The country is represented by Maria Elena Kyriakou with the song One Last Breath. Are there any changes since the country's first rehearsal? What is the impression left by the song amongst the other entries in the running order? We try to answer your questions reporting live from inside the hall of Wiener Stadthalle.Maria Elena gives another impressive vocal performance this morning. The stage looks really beautiful (I am watching the Greek rehearsal from inside the hall) and the whole performance is truly impressive to watch live. A closer look on the monitor reveals that Maria Elena looks a bit strained (perhaps a bit tired but you cannnot sense that in her voice). The effective armography is still there, carried out very expressively by Maria Elena. I was hoping perhaps for a re-adjustment of the singer's reflective dress to make it a bit tighter fitting even though I had to admit it looks really nice live on stage, it is on the screen that it looks a bit loose and stiff, not to mention that you can often miss it (and with it Maria Elena herself) in amongst all the flashing lights when these come up. Maria Elena's face remains sub-lit; I would imagine that this is a directorial decision but I am not sure it works to the advantage of the singer's beautiful face (I had the chance to attend the Greek press conference on Monday and Maria Elena looks much younger in person for example). Nevertheless, a very good second rehearsal for Greece.
The country will perform right after a commercial break but discussions about the Finish entry might still be going on, therefore detracting attention from the Greek song perhaps. As long as viewers turn to their screens in time for the moment where the song builds up to an impressive passionate section, Greece should do very well in the semi final. As was the case with Belgium, I would be surprised if the Greek entry did not make it to the final.
Greece is one of very few countries to have never failed to qualify from a semi final in the past. You can read about Greece's first rehearsal here.
In our video below, you can see one of Maria Elena's runs during the session of her second rehearsal this morning.