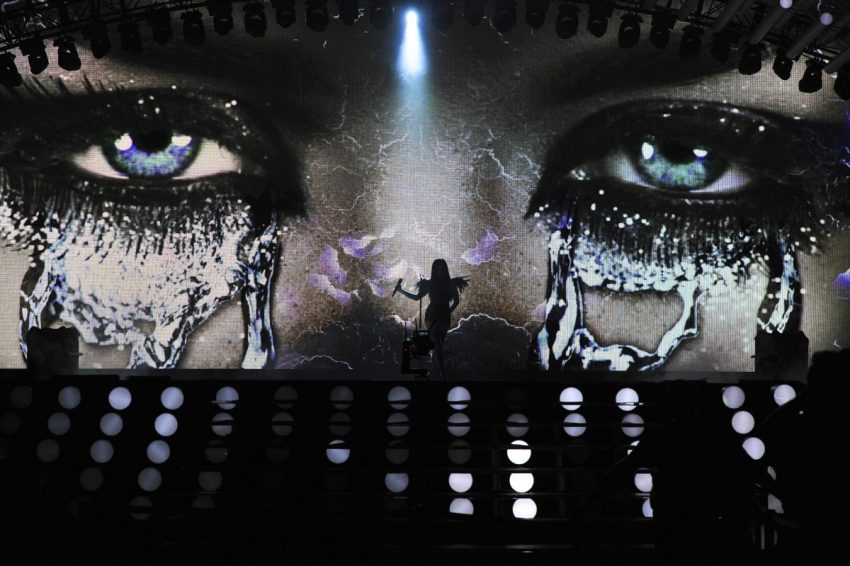 Georgia will be performing 16th in the upcoming First Semi Final this Tuesday. The country is represented by Nina Sublatti with the song Warrior. Are there any changes since the country's first rehearsal? What is the impression left by the song amongst the other entries in the running order? We try to answer your questions reporting live from inside the hall of Wiener Stadthalle.
After many rehearsals where nothing much changes, at last, Georgia have now changed the overtly sub-lit concept followed for the country's first rehearsal in favour of stronger lighting falling from the front and we can thus  now see Nina's beautiful face as she sings. Her performance is still strong. I am a little perplexed as it seems that the Georgian delegation have opted to turn all the lights a notch up and not just the spotlights falling on the singer. As a result, this has lost some of its dark charm (my point here being: light up the face a bit while preserving the concept of a dark stage). The rehearsal stopped for about ten to fifteen minutes so what we saw this afternoon may not necessarily be what Georgia are preparing for the semi final. Everyone is quite tired by now  in the press centre – it has been a long day after a long week to be followed by a long Saturday – and, as a result, a little unresponsive to what is going on in the hall or on the monitors. As fas as Georgia's chances of progressing to the final are concerned, I would say that these are high.
Georgia has managed to progress to the final from the semi final stage on five times out of seven.
Our video from Georgia's second rehearsal can be seen below.