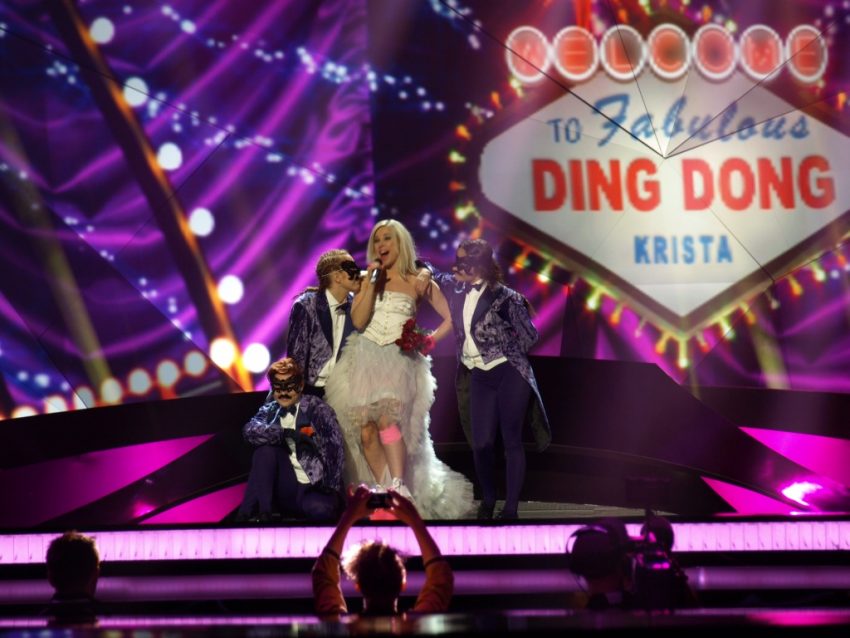 In 2013 Krista Siegfrids represented Finland in Eurovision. In her song 'Marry Me' she asked her then fiancé to take their relationship to the next level. Moreover, 'Marry Me' became a song to support marriage equality in Finland which was still being discussed in the Nordic country back then.
For the Eurovision Song Contest 2013 Finland organised their national selection Uuden Musiikin Kilpailu. UMK 2013 consisted on 4 shows: two heats, a semi-final and a grand final. Krista Siegfrids competed with seven other songs in the national final. She won the televote and was tied in first place with other two songs in the jury vote. That was enough to give Krista a ticket to represent Finland in Malmö, Sweden.
At Eurovision, Krista sung Marry Me in the second semifinal. She came in ninth place and therefore went ahead to the final. On the night of the final she sang in fourth place. She was wearing a wedding dress. Two of her supporting dancers dressed as her wedding ushers and three backing singers dressed in formal dresses. A sign on the backdrops screens indicated us that Krista was having a Las Vegas style wedding. In the middle of the performance, the ushers hurried to Krista's wedding train and suddenly changed their outfits to reveal themselves as her bridesmaids. At the end of the song Krista "got married" to one of her backing singers, and they sealed it with a kiss. This final revelation was in fact, Krista's way to show support for marriage equality in Finland.
Marry Me finished in 24th place in the final with 13 points. Krista Siegfrids wrote her song together with Erik Nyholm, Kristofer Karlsson and Jessika Lundström.
Marry Me – opinions from fans
In order to find out what Eurovision fans today think of this Finnish entry from 2013, we asked our Eurovision Fan Panel. It includes team members as well as fans from all over the world.
🇨🇿 Josef S. – I wasn't a big fan of Marry Me back in 2013, but I started to like it more after Eurovision 2013 was over. It's modern and catchy, and Krista is an excellent performer and entertainer, which helps it a lot. I remember watching Eurovision 2013 on Russian TV and what a shock it was in the end for the commentator. Krista deserves some plus points for the kiss as well.
🇩🇰 Charlotte J. -This is cute! It's a catchy fun pop song and the performance really makes this one stand out – both in a good way, as well as negatively. The kiss at the end unfortunately didn't work for me – it immediately took the fun out of the song. It went from being a fun song, I really enjoyed, to a statement, which I think was the wrong forum for it.
🇨🇴 🇫🇮 Álvaro S. – Krista is a show woman, and she has demonstrated this to us over the years. She is simply amazing, and she keeps involved in Eurovision. Is it winning material? No, but I think it deserved to be in the top 10 or close to it. It is a catchy funny song to celebrate and also to ask for marriage equality.
🇹🇷 🇫🇷 Egemen O. – Well, I have seen a lot of entries in Eurovision that contributes to its culture. The winners, the suckers, the joke entries, the underdogs, the ones that got worldwide fame despite them not winning such as Nel Blu Dipinto Di Blu etc. The thing is, this song is neither of them. I don't think that it would be a missed if she didn't win her national final. It's just… It doesn't appeal any feeling in me. And to speak the truth, the only reason the song got support is that it was targeting homosexual people.
🇳🇱 🇩🇰 Wouter V. – I hate to sing a long to this song, and yet I still do. It's so over the top tacky and kitsch that it's almost actually good again. Watching the performance, I am constantly in doubt whom she is singing to. She repeats her encouragement to marry her to all cameras, so maybe she just wants everybody to marry her. If it's your thing, so be it, but polygamy is just not for me.
🇳🇴 Robert I. – Krista is an amazing artist with a wonderful charisma. This entry is pure happiness. The song is very catchy and the performance makes me in a very good mood. Fun and playful – Great!
🇬🇧 Michael O. – To begin with, this sounded a bit Katy Perry like and could have stood a chance, had she not then went on to become one of Eurovision's most irritating people. Her presence at the 2013 contest was simply annoying. She may have improved since.
🇧🇷 Amir B. – A desperate woman on the Eurovision stage. I loved the staging, a good pop with a very good combination of elements. Krista is an amazing singer! She deserves a world of charisma and happiness. So adorable song.
🇫🇮 Martti I. – It's very rare, that Finland could produce an 99% perfect 3 minutes. I loved the song, the idea behind the song, every well thought gimmick went as planned. Before the act I was sure, that Finland could rise towards top 5, but after The Kiss it was clear how huge amount of voters will choose something instead. The kiss was problematic as Europe wasn't ready for it. It wasn't ready in 1957 for the Danish Kiss either. In a contest in case you are willing to vain voters …stunts like that aren't wise, but personally it didn't bother me one bit. Thought about Krista's 3 minutes as opening doors career wise much more. Still must once more say that I adore the song, one of the best Finland has sent and being still the best visual entry from Finland.
Enjoy Krista's performance from the 2013 Eurovision Song Contest in the embedded video. Below the video, you can read more about her.
Krista Siegfrids – a mini biography
Kristin "Krista" Siegfrids was born in Kaskinen, Finland in 1985. Krista started her career as part of the band Daisy Jack. She performed in musicals in her home country. In 2011, she participated in the first season of the Finnish version of The Voice.
Krista Siegfrids represented Finland in the Eurovision Song Contest 2013 held in Malmö, Sweden. In 2015, she was the spokesperson for Finland at the Eurovision Song Contest. She did not only give the Finnish points, but she also announced that she was "finally getting married". She competed in the Swedish Melodifestivalen in 2016 and 2017 with the songs Faller and Snurra Min Jord.
Krista keeps involved in Eurovision related events like the Finnish national final UMK, which she has hosted several times, and the Eurovision Cruise. In 2020, she covered Dana International's winning song Diva featuring Mr. Lordi (Eurovision winner 2006). For the Eurovision Song Contest 2021 Krista will host the online show Krista calling where she will cover all the behind-the scenes stories for this year's Eurovision.