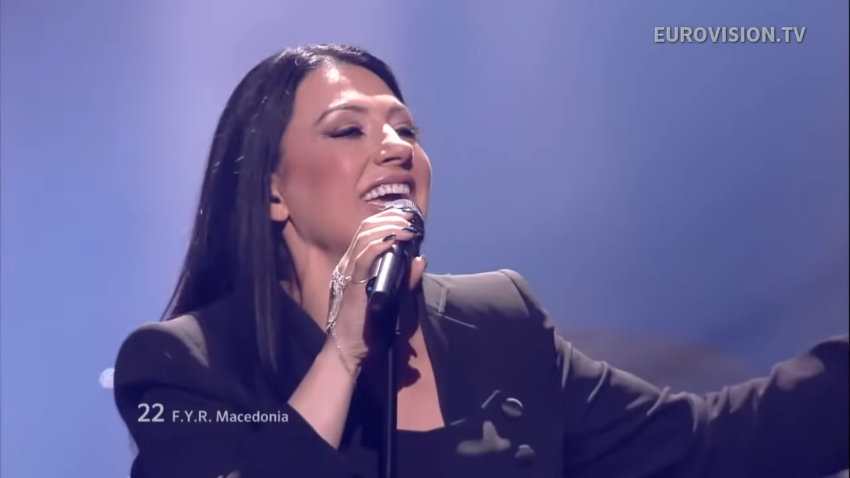 North Macedonian star Kaliopi graced the Eurovision stage twice both in 2012 in Baku and in 2016 in Stockholm. Most Eurovision fans tend to prefer 'Crno I Belo', her 2012 entry with which she also reached the final.
Note: Back then North Macedonia participated under the name FYROM (Former Yugoslav Republic of Macedonia). We'll use the name the country is known under now; North Macedonia.
Kaliopi Bukle was invited to represent her country by the North Macedonian broadcaster MKRTV dated 19th of November 2011. After the announcement, the artist received an instrumental composition of Crno I Belo from her former husband and band mate Romeo Grill. Kaliopi wrote lyrics for that composition and she started the recording procedure of the song in early 2012 with Grill. On the 29th of February 2012, she released Crno I Belo in a 1.5 hour long program aired by the broadcaster in which she performed Crno I Belo as well as its English version Black and White.
In Baku, Kaliopi competed in the second semi-final 2nd in the running order with her rock song embellished with her strong vocal show. She passed to the grand final with 53 points and an 9th place. In the grand final, she competed 22nd in running order. She received 71 points, exactly the same as Romania's Mandinga. However, as Mandinga received votes from more countries, Kaliopi became 13th while Mandinga took the 12th place.
Crno I Belo – opinions from fans
In order to find out what Eurovision fans today think of this North Macedonian entry from 2012, we asked our Eurovision Fan Panel. It includes team members as well as fans from all over the world.
🇹🇷 Gunec G. – My my my… I have heard a couple of voice acts like this on the Eurovision stage but my oh my this one is so fantastic. Kaliopi has such a unique voice and vocal style, I admire her. Crno I Belo, is a shining piece of art and we have to give a credit to Kaliopi as a performer as well as the whole team behind it. As per Dona, in my humble opinion, it was a little uninspiring and mediocre compared to Crno I Belo yet good enough. Crno I Belo definitely deserved a top 7 at least.
🇩🇰 Charlotte J. – Kaliopi is strong vocally, no doubt about that. I am quite mixed about this one. It takes a while to kick off, but once we come to the rock-chorus, I am hooked. It's a shame though that it's too slow in the beginning for me to fully appreciate it. Its 13th place in the final is quite alright, I think.
🇫🇮 Martti I. – Macedonian superstar Kaliopi received the ticket to Baku. Finally, as in my opinion she should have received that already in 1996 with Samo Ti. This 2012 rock ballad is such a joy as Kaliopi's singing leaves no one cold. It's a melodic powerful entry and my personal top 3.
🇨🇿 Josef S. – This is by far the best entry from North Macedonia at Eurovision EVER! I just love it. How rocky it is and how Kaliopi can switch between the soft parts and the rocky ones. Everyone just have to stay amazed how beautiful it is. It deserved even better result IMO.
🇨🇴 🇫🇮 Alvaro S. – A much better entry than her 2016 attempt Kaliopi did not disappoint with her performance and her almost impossible high notes.
🇩🇰 Liza P. – I think Kaliopi has a great song that mix the classical with rock. Her hoarse voice fits the tune very well. All though I could do without the little scream in the song. But I do prefer this entry to the one in 2016. Especially because of the hoarse voice. However I don't understand why she avoids looking into the camera. I also like that she don't go black leather, but instead have a black suit to underline the classical in the rocktune. And a place in the final was well deserved in my opinion.
🇬🇧 Aaron S. – I like Crno I Belo and it is one of my favourite North Macedonian entries. The lead vocals are strong and powerful, then the guitar comes in to give it a real lively rock vibe. It was a good performance which I feel should have placed slightly higher.
🇳🇱 🇩🇰 Wouter W. – Kaliopi is a great artist, with a great voice. But I guess my love for Balkan pop doesn't extend to Balkan pop-rock.
🇬🇧 Michael O. – Though I didn't particularly like this song , there is no doubt this was one of the best performances ever at Eurovision. A power house of a singer and a well deserved place in the final.
Enjoy Kaliopi's performance from the 2012 Eurovision Song Contest in the embedded video. Below the video, you can read more about her.
Kaliopi – a mini biography
Kaliopi Bukle was born on the 28th of December 1966 in Ohrid. Her first musical action was to join the Zlatno Slavejče, a festival for children, at the age of 10. She won the festival with her song Mojata učitelka. She had a good musical education in her early ages.
In 1984, she formed a group called Kaliopi with Romeo Grill. They have led an active musical life joining several festivals and giving concerts. They also have released two albums. At the peek of their careers Grill and Bukle moved to Switzerland. After a long absence from the music scene and the breakup of Yugoslavia, the band officially split up. Kaliopi has been leading her solo career since 1996 with several festival participations, singles and albums. Her latest album Melem was released in 2013.
Twice, did she represent her country at the Eurovision Song Contest – although it could have been three times. In 1996, she was set to be the country's first representative, but unfortunately a pre-qualification round stopped that dream. Instead, we saw her in 2012 and 2016. In the 2012, she finished 13th in the final and in 2016 with the song Dona, she unfortunately failed to qualify from the semi-final.