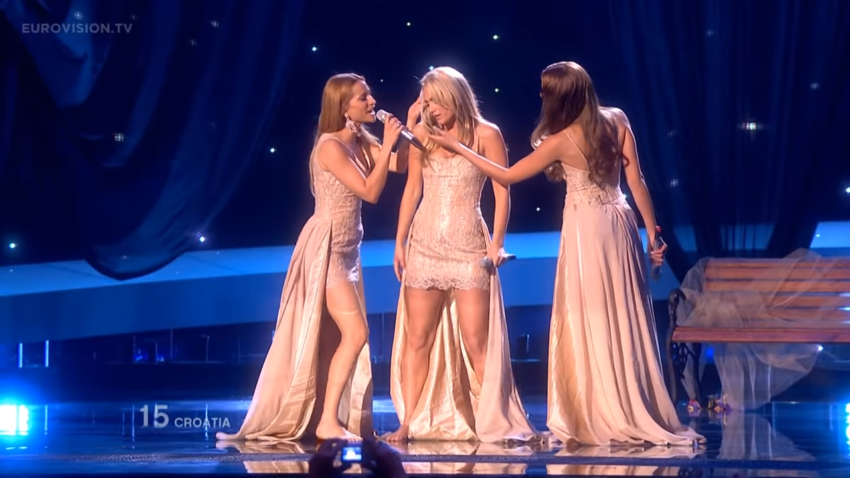 In their second Eurovision appearance, Feminnem failed to reach the final. While some Eurovision fans are unable to understand that result, others find the song lacking power.
Over two days in early March 2010, the Croatian selection format Dora took place. First a semi-final was held. 16 acts took part. They were eliminated to eight that could continue to the next day's final. Another eight acts had been pre-qualified for the final making a total of 16 participants in the final too. In the semi-final with 100% televoting, Feminnem only came 4th. In the final, they won in a 50/50 combination with jury and televoting.
With 33 points, Feminnem failed to qualify from the second semi-final. That year, 67 points was needed to make the cut. Croatia's points were made up by the maximum 12 points from Slovenia. 7 points from Armenia and Switzerland. Three from Bulgaria. From Denmark, they received 2 points and finally 1 point from Azerbaijan and Ireland.
Lako Je Sve – opinions from fans
In order to find out what Eurovision fans today think of this Croatian entry from 2010, we asked our Eurovision Fan Panel. It includes team members as well as fans from all over the world.
🇬🇧 Richard C. – Lako Je Sve is a truly beautiful Balkan ballad. Individually the three singers of the group have really good voices and collectively sound impressive. The well constructed choreography showcasing each singers vocals was on point. Another strong vocal performance from Croatia. Maybe not my personal overall winner that year but certainly in my top five for sure. Even to this day I can't understand why this didn't resonate and get the votes from the audience. It really is a shame as I still enjoy Lako Je Sve to this day.
🇧🇦 🇩🇰 Elvir P. – Croatia not qualifying for the grand final back in 2010 is still one of the biggest surprises in history of the contest in my opinion. Although I don't think Lako Je Sve is as good as Feminnem's debut entry Call Me (Bosnia and Herzegovina 2005), it is still a quality song with a nice sound and decent staging.
🇨🇾 Elena T. – Not my favourite song by Croatia… I like the second part of the song and I do appreciate that they sang in their own language. The instrumental part is really nice too!
🇨🇿 Josef Š. – Lako Je Sve is one of the entries I really like. Thanks to all there girls of Feminnem, who really looks gorgeous as some top models and even though their solo singing parts were not always completely on point, together it worked. Because it has some emotion. Balkan love songs are must-have from time to time at Eurovision.
🇬🇧 Ashleigh K. – A good solid vocal from Croatia in 2010. All three ladies had great vocals and sounded really good together. The melody at times feels a bit off and it isn't as catchy as O'G3ne. So out of two similar acts, The girls from The Netherlands were better.
🇨🇴 🇫🇮 Alvaro S. – This is a beautiful song sung by the girls from Feminnem in their language. I think it has a good balance of a dramatic performance without overacting, a mistake some acts have made in the past. This song actually has some Molitva vibes. It deserved a better place.
🇹🇷 Güneç G. – A very mediocre even boring song from a great group like Feminnem. The girls need to sing uptempo songs rather than romantic ballads, in my opinion.
🇬🇧 Michael O. – Quite a surprise that this didn't qualify. The ladies singing was superb, and this was a good tune. Was diaspora voting still going on at this time?
🇩🇰 Charlotte J. – The song starts out really good, but unfortunately it doesn't continue down that path for me. The chorus is a bit weak, and I would have wanted more power in it. I can understand why it didn't qualify. While vocally there's nothing to complain about, the chorus really is a tad too boring.
🇭🇺 Vangelis M. – Croatia in 2010 is one of the most popular songs of the contest, I think. The song is not bad and it might be one of the best that Croatia has sent to the contest yet. I have to admit that I felt cringing a little bit in the dancing part.
Enjoy Feminnem's performance from the 2010 Eurovision Song Contest in the embedded video. Below the video, you can read more about them.
Feminnem – a mini biography
Feminnem was formed back in 2004 with original members Ivana Marić, Neda Parmać and Pamela Ramljak, following the appearance in the Croatian version of Pop Idol.
In 2005 they represented Bosnia-Herzegovina in the Eurovision Song Contest finishing 14th in the grand final with the song Call Me. In 2010, when they returned to the contest – representing Croatia, the group consisted of Nika Antolos, Parmać and Ramljak.
On 21 February 2012 Pamela, Neda and Nika decided to start solo careers and leave Feminnem and disbanded the group. Feminnem has over the years released three studio albums.