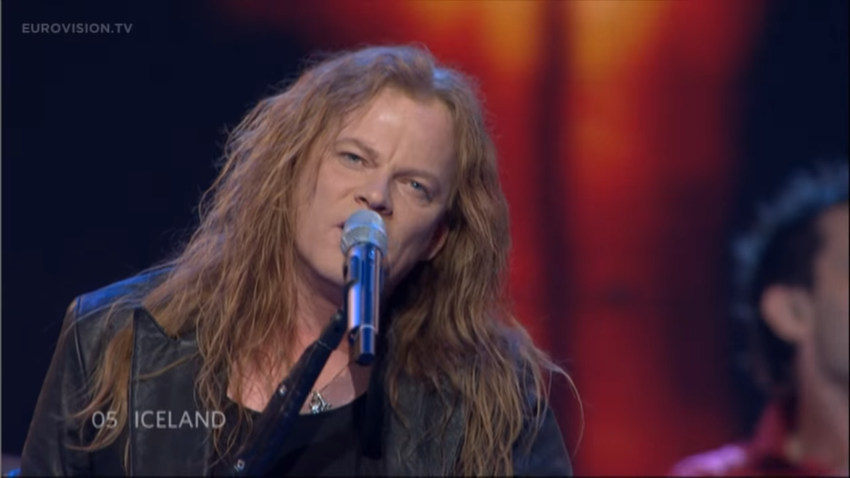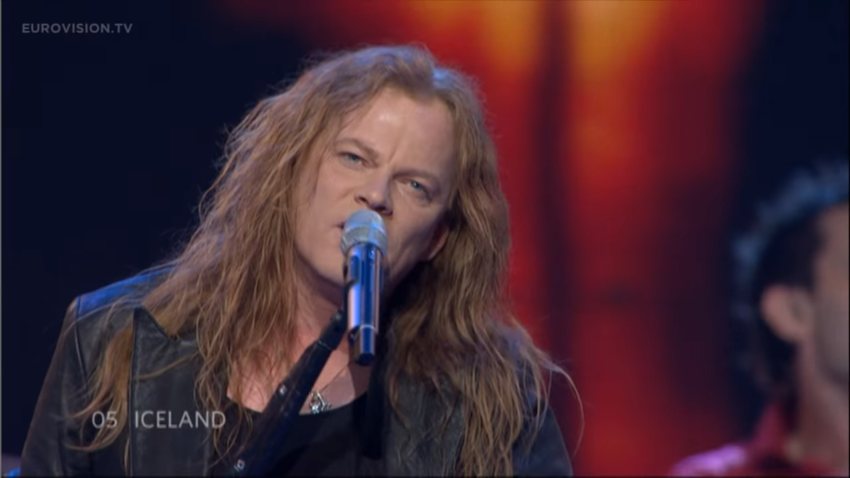 In his third Eurovision participation, the second for his native Iceland, Eiríkur Hauksson unfortunately failed to reach the final. 13 years later, the song 'Valentine Lost' is however still loved by those fans who appreciate a good rock tune in Eurovision.
In February 2007, Icelandic broadcaster RÚV had reached the end of it's selection show Söngvakeppni Sjónvarpsins. Three semi-finals had selected the 9 acts that now stood in the final. TV viewers decided 100%. Eiríkur Hauksson won with the song Ég les í lófa þínum.
For Eurovision, the song was performed in English under the title Valentine Lost. It tells about a broken relationship. Left is just to remember that 'Rock 'n' roll will heal your soul, when broken hearts lose all control'.
28 countries performed in the sem-final. Top 10 joined the pre-qualified countries that were Big 4 + top 10 from 2006. Eiríkur unfortunately finished in 13th place, and thus didn't reach the final.
Valentine Lost is composed by Sveinn Rúnar Sigurðsson with Peter Fenner providing the lyrics.
Valentine Lost – opinions from fans
In order to find out what Eurovision fans today think of this Icelandic entry from 2007, we asked our Eurovision Fan Panel. It includes team members as well as fans from all over the world.
🇬🇧 Richard C. – A beautifully written power ballad with great instrumentation and composition. Eiríkur's waspy rock vocals are nicely displayed here, showcasing a raw softer emotional side. All in all his live performance was an enjoyable watch again. One of Iceland's gems for sure.
🇩🇰 Charlotte J. – If anyone ask me when I have been most starstruck, the answer is: After the Icelandic final in 2007! I was at home cheering for my big idol Eiríkur, and my joy was big when he won. It was however nothing compared to what happened later the same evening, when he called me! A friend (I am still forever grateful, Benny ❤️) at the Icelandic final got him to call me. I was, for once, lost for words and extremely shy. What a bad first impression, I must have given him, but damn, I could fly in the following days.
I LOVE this song – both the Icelandic and the English version. It's a fantastic entry, which deserved so much better.
🇸🇪 Jill R. – Valentine Lost with Eiríkur Hauksson is in my opinion one of the best songs from Iceland ever. I really like the rock sound and the voice of Eiríkur. I wish there was more metal/rock songs in Eurovision. Sadly it didn't´t go to the final, but it sure deserved to. There were some better songs in 2007, but many of them I eventually got tired of. Valentine Lost is one of the few songs I still listen to. The performance could have been more exiting though, maybe with some pyrotechnics.
🇨🇴 🇫🇮 Alvaro S. – I like the performative aspect of this entry. The singer has this larger than life, Axel Rose like look. Also I cannot help but get excited in the chorus when he proclaims that rock'n roll is going to save our souls. I think it is a good song, but it was just too early after Lordi's victory thus it did not impress the audience that much.
🇬🇧 Ashleigh K. – A good rock song from Iceland in 2007. Hearing such entries makes me glad that I now watch the semi-finals as well as the main grand final show because you miss out on entries like this that fail to qualify. Don't get me wrong.. I don't hear a winning entry here but it's pleasant and Eiríkur has a great voice for rock music.
🇨🇿 Josef Š. – I am not common fan of rock music, but when there's a good one, I like it. And Eiríkur Hauksson's is better average. Not a song I would root for at Eurovision but for sure neither an outsider. It found its target group and Iceland doesn't need to be ashamed for this attempt.
🇭🇺 Vangelis M. – Iceland was in 2007 represented by a rock ballad. Not my cup of tea, to be honest. It is a nice song, but for me it would be the "break" in order to order pizza for the big night if it would have qualified to the Grand final. Iceland have been represented by better acts and songs, but it was a nice try!
🇩🇰 Liza P. – I have a soft spot for Icelandic songs, usually I have Iceland above Denmark with a few exceptions.
With Valentine Lost I am a bit ambivalent. I like the song very much. Eiríkur has a fantastic voice that goes great with the rough feeling in the melody. The look in his eyes is intense and the performance is flawless. However, I do get a bit distracted by the overeager drummer in the background.
The reason for my ambivalence is the lyrics. They are a bit messy or not so consistent (sorry Peter Fenner). But maybe that is the point, that the song is not meant to be "nice or neat". And I can live with that.
🇬🇷 Kostas C. – I didn't like neither the song itself nor the stage performance. Rock music is in general not my cup of tea, but I can enjoy some songs. This one, definitely not. Even if the song was in an easier semi-final, I wouldn't give it a chance to qualify! 4/10.
🇬🇧 🇮🇪 William S. – I'm a big fan of Mrs Thompson (Norway 1990), that is a Eurovision classic by Just4Fun which Eiríkur Hauksson was a part of. His voice is a powerful one which helps when singing rock, and that is what we can call this ballad. I never actually warmed to this Icelandic entry, and didn't understand its appeal to so many fans, it was a pre contest favourite, but I for one was not surprised when it didn't qualify.
🇪🇸 Mária P. – In my opinion it's quite a good entry with an emotional tune and a good performance and staging. Some people found the guitar players' choreography unsuitable, but I saw a certain charm to it. Maybe this entry didn't deserve a top 10, but qualifying for the final would have been fair.
🇬🇧 Michael O. – This was like a totally unmemorable reject from rock of ages or Bad Out Of Hell The Musical. As far as qualifying to the final though, I thought it stood as good a chance as any, as 2007 was one of the worst years ever. Not a song I ever listen to nowadays.
Enjoy Eiríkur Hauksson's performance from the 2007 Eurovision Song Contest in the embedded video. Below the video, you can read more about Eiríkur Hauksson.
Eiríkur Hauksson – a mini biograhy
On Iceland in the early 1980's, Eiríkur started his career. One of his songs, written and performed together with an Icelandic rock band, became 'song of the year' in 1981. His big breakthrough didn't happen before 1985 though. Two songs, Gaggó-Vest and Gull changed everything. He had become a household name on Iceand. He didn't stay long on the island though. Norway, and in particular the metal band Artch, made Eiríkur move. This band had just lost it's vocalist in a tragedic accident. Eiríkur replaced him in the band where Bernt Jansen was bass player. Bernt later became Wig Wam's 'Flash'. (WigWam represented Norway in 2005).
Over the years, Eiríkur has participated three time at the Eurovision Song Contest. Twice for Iceland and once for Norway.
Eiríkur Hauksson's three Eurovision participations
1986: Gleðibankinn was performed by the trio Icy, of which Eiríkur was a member. The song finished 16th at the Eurovision Song Contest.
1991: Mrs. Thompson was performed by Just 4 Fun, a quartet put together of four singers approached by Norwegian broadcaster NRK. Eiríkur was one of them. The song finished 17th at the Eurovision Song Contest.
2007: Valentine Lost finished 13th in a semi-final with 28 countries. Unfortunately only top 10 qualified for the final.