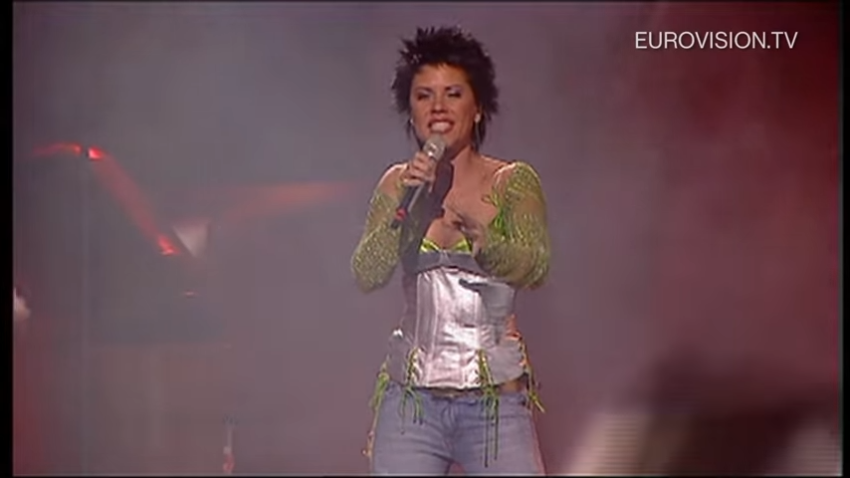 Romanian star Luminitha Anghel brought one of the most successful results to her country in 2005 with her uptempo energetic pop song 'Let Me Try'. 15 years later, Eurovision fans look back on this surprising third place.
The Romanian national final in 2005 was held at Studioul 1 of the broadcaster TVR on the 5th of March. 12 songs were selected by a professional jury out of many submitted songs. Among the 12 participants were other Romanian Eurovision participants like Nico (2008), Mihai Trăistariu (2006) and Mandinga (2012).
Nicolae Dinescu, the drummer of the participant band Juke Box passed away due to a sudden heart attack on the morning, prior to the contest, but the group decided to compete anyway. The national final caused some larger controversies after the final date. Loredana, the artist who came second after the winner, accused TVR of vote rigging because she refused to sign a contract with the broadcaster about the copyright of her song. She also claimed that the voting lines to her entry were continuously busy.
Eventually, after a combination of televote and jury vote, Luminita Anghel backed by the famous percussion band Sistem won the national selection with her uptempo pop song Let Me Try. 
At the Eurovision Song Contest in Kyiv, Ukraine, Luminita won the semi final with 235 points. In the final, Romania received 158 points which carried them to the 3rd place, the country's second highest ever achieved.
Let Me Try – opinions from fans
In order to find out what Eurovision fans today think of this Romanian entry from 2005, we asked our Eurovision Fan Panel. It includes team members as well as fans from all over the world.
🇮🇪 Paul K. – It's a pretty cool song. I wouldn't say it's great or anything but it's something that, if I was there, I would be dancing hard to this cause it's a good, boppy song. The saws cutting into the barrels were really cool, I didn't expect that, but the staging otherwise was meh. She has a very good voice and she held her own in this. She gave good stage presence but the staging itself wasn't as strong as what would have been hoped. Nonetheless good job by Romania that year.
🇨🇴 🇫🇮 Alvaro S. – The stage was original I think, but the song is not memorable, at least for me. I think that is the problem. When people mention that this song would have done much better on Eurovision if only they had been allowed to use fireworks this rings a bell for me… the show became more important than the song.
🇬🇧 Michael O. – This was a good performance from everyone involved, and deserved its high placing. Not a song that's constantly on my mind, but when I hear it I enjoy it enough.
🇩🇰 Charlotte C. – I am surprised to see that this finished 3rd. I had forgotten all about it, a state I will soon return to. The song does have some nice moments and generally a good energetic vibe, but it's not a song I am able to remember. Looking at the list of participants that year, I can mention at least 7 other songs who I remember and really like – and who all did worse than this. As such, I would probably place this Romanian entry just outside top 10.
🇹🇷 Gunec G. – Energy and good vibes on stage. A strong vocal performance from Luminitha. A superb teamwork. I still enjoy listening to it from time to time. This should be a Eurovision classic. A very well deserved top 3. All in all, I find Romania a very successful country in ESC.
🇷🇴 Doina A. – In my opinion, Let Me Try is colourful and musical chords, loud percussions accompany the performer. It's full of positive energy, danceable and the lyrics are simple as love poetry! Luminita Anghel has shown vocal qualities, which give power to the song! As a whole, the song is original and well received by public in the Eurovision Song Contest as well as in Romania.
🇳🇱 🇩🇰 Wouter W. – I remember this song to be better, but apparently my memory has decayed or my music taste has improved. So many songs were better that year. Using oil barrels for drums was a nice gimmick though.
🇭🇺 Vangelis M. – Romania in 2005 sent a song that in other ways could be a ballad if we see the lyrics but they decided to make it an uptempo song so it's a song that sticks to your mind instead of a sometime, boring ballad. Not the best song but not bad. The staging for me is a no as well, the outfits are also a no.
Enjoy Luminitha Anghel's performance from the 1995 Eurovision Song Contest in the embedded video. Below the video, you can read more about her.
Luminitha Anghel – a mini biography
Luminita Anghel was born on the 7th of October 1968 in Bucharest Romania to a Romanian family. She has studied Popular Art, Sociology and Psychology. Since the age of 8, she has been performing. In 1995, she won the Mamaia Music Festival which made her well known in Romania. Afterwards, she had many successful participations to different national and international festivals at which she won many trophies.
She competed in Selectia Nationala (Romanian National Final) in 1994, 1996, 2000, 2005 (where she won), 2010, 2013 and 2015. Her Eurovision participation in 2005 earned her – and the country – a third place.
Anghel has also had a political career. In 2008, she ran for a Bucharest seat in the Chamber of Deputies as a Social Democrat candidate to which she lost to Elena Udrea. The same year, she was chosen as the face of Garnier Romania. However it was cancelled because politicians who candidate for something are not allowed to appear on TV in Romania.
Aside from music and politics, she has also taken part in two films and a number of TV shows.