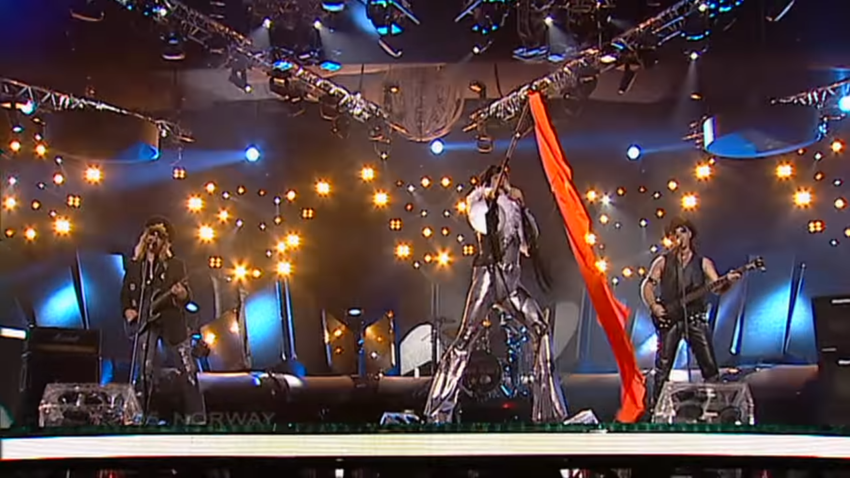 Wig Wam's 'In My Dreams' became a hit. It finished in top 10 at the Eurovision Song Contest, and today, 15 year's later, fans from all over Europe still love it. For some, this is one of Norway's best entries.

The Norwegian national final, Melodi Grand Prix, was held on the 5th of March 2005. 8 acts competed. In a first round of voting, four were eliminated with the remaining four taking part in another round of a voting, a so-called 'Super final'. The public vote was divided on to five regions. Three of the five regions had Wig Wam first, which was enough to secure the overall victory.
With a sixth place in the semi-final, Wig Wam sailed securely into the final. 125 points in the final made the band finish in 9th place. This included the maximum 12 points from Denmark, Finland and Iceland.
In My Dreams – opinions from fans
In order to find out what Eurovision fans today think of this Norwegian entry from 2005, we asked our Eurovision Fan Panel. It includes team members as well as fans from all over the world.
🇳🇴 Robert I. – In My Dreams became a big hit in my home country Norway. This glam rock with an 80s feeling was a fresh breath in the contest and it sort of lead the way for Finnish Lordi who won the year after. Although I usually don't listen to rock, I like this entry. When watching Wig Wam perform, I feel entertained by the fabulous energy they had, and especially the vocalist Åge Steen Nilsen. They did a great live performance.
🇬🇧 Ashleigh K. – I never knew Noel Fielding had once entered Eurovision 😂😂. I didn't think I remembered this song but as soon as I heard the "come on! come on! come on!" I remembered it instantly. The outfits and performance style reminds me a little of The Darkness. A good rock song not to be taken seriously.
🇩🇰 Charlotte J. – I love this one. It's in my top three over Norwegian entries, and if I am to rate all 1500+ Eurovision entries from 1956 until now, this one will probably feature in top 25. In My Dreams is really catchy, impossible to ignore, easy to sing along to – and it just gets stuck in your head. At least it did for me those 15 years ago, and it's still there. Actually, it's hard to believe that this is already 15 years ago. Would it be a 2021 entry, I am suspecting, it would still get my 12 points.
🇳🇱 🇩🇰 Wouter V. – This song always reminds me of Bon Jovi songs like Living On A Prayer and It's My Life, which obviously isn't a bad thing. Even though I would choose Bon Jovi over Wig Wam every single time, I do quite enjoy In My Dreams.
🇨🇴 🇫🇮 Alvaro S. – Norway brought us back to the 80s nostalgia with this glam rock song. The sound and the aesthetics of the band go directly to the nostalgia fans, which although I did not enjoy that era I count myself in. By the way, who would not love to feel like a rock star on a stage waving a flag and being cheered by a crowd. That was visually a hot moment.
🇬🇧 Michael O. – This is the closest you'll get to Bon Jovi ever appearing at Eurovision, unless they become an interval act someday. Something a little different for 2005 I guess but not really one I still listen to nowadays.
🇳🇴 Steinar M. – My 2nd favourite Norwegian entry – after Nocturne. I was so proud when it won Melodi Grand Prix. Finally we sent a rock song. Powerful, yet melodious. Edgy, yet smooth. A great, catchy hard rock song. Clearly influenced by 80s hard rock musically Wig Wam were very popular for several years in Norway. And the lead singer has had a long and active carrier with other projects too.
🇮🇪 Paul K. – I do like this song. There are so many songs that we know and loved but it's still enjoyable. It gives me such nostalgia to the years of Bon Jovi, and their song Living On A Prayer. I like it. It's a song I would listen to 😊
🇩🇰 Alberte B. – I love this so much! I'm a big fan of rock entries in Eurovision as I think they spice things up a lot, and I especially like this one! I love the outfits, the melody, the songs, everything! I know the best rock song won a year later, but I would have loved if Wig Wam won as well 🙂
🇪🇸 Maria P. – The live performance was good, but I don't usually like this kind of rock songs, with so much noise and screaming. I didn't like their clothing either, they looked rather like disguises. It's not that I loathe this entry, but it's very far from being among my favourites in the year.
Enjoy Wig Wam's performance from the 2005 Eurovision Song Contest in the embedded video. Below the video, you can read more about them.
Wig Wam – a mini biography
Consisting of Glam (Åge Sten Nilsen) on vocals, Teeny (Trond Holter) on guitars, Flash (Bernt Jansen) on bass and finally Sporty (Øystein Andersen) on drums, Wig Wam was founded in 2001. Their first album released in 2004 had been given the title 667 … The Neighbour Of The Beast. The album contained their 2004 national final entry Crazy Things that finished 3rd.
As the band went on to represent Norway at the 2005 Eurovision Song Contest (and achieve a 9th place) a new European release of the first album was made. A few songs was added – including the Eurovision entry In My Dreams. The album was now called Hard To Be A Rock'n'Roller… In Kiev. In 2006, it saw a Japanese release under the name Hard To Be A Rock'n Roller… In Tokyo!.
Over the years, Wig Wam released four studio albums before they went each their way in 2014. Five years later, we saw a short re-union of the band.