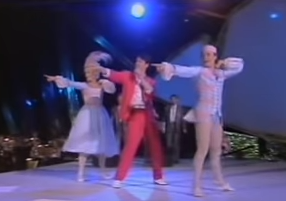 This song represents the 1980's very well. A catchy up-tempo colourful performance with a sleek dance routine. Ketil Stokkan was on home field when he for the first time in the history of Eurovision brought a drag act on stage.
In March 1986, Ketil Stokkan won a clear victory in the national Melodi Grand Prix final. The result was decided by a mix of regional juries, press and studio audience.
Following Bobbysocks victory the year before, Norway was on homefield at the 1986 Eurovision Song Contest. The city of Bergen hosted the contest, in which Ketil Stokkan and his own-composed Romeo finished in 12th place.
His use of a drag queen is referred to as the first time ever a sexual minority was visible on the Eurovision stage. The lyrics tells about his struggles to get the person he desires. Every time, he thinks he might be close, he is pushed away with words comparing him to a well known Shakespeare figure: "God knows that you will never be a Romeo".
Romeo – opinions from fans
In order to find out what Eurovision fans today think of this Norwegian entry from 1986, we asked our Eurovision Fan Panel. It includes team members as well as fans from all over the world.
🇬🇧 Ashleigh K. – Everything about this performance screams 1980's… the sound, the clothes, the hair, the choreography. I'm usually quite a lover on 80's music, but unfortunately this doesn't do it for me and the drag queen dancers are a bit off putting.
🇩🇰 Charlotte J. – I must admit that I feel a bit naive. It wasn't until the research for this article, that I realised Ketil Stokkan had a drag with him on stage! It had simply never crossed my mind before, but it of course make sense in terms of the old Shakespeare plays. I remember this from the 1986 contest. Back then, I was 10 years old, and I totally loved it: I loved the lyrics, the music, the dance routine and the customs. And yes, to this 10 year old me, Ketil looked handsome in his red suit too. This was the perfect Eurovision cocktail for me in 1986.
Today, I still listen to it, and if I am woken up in the middle of the night asked to sing it, it probably won't take me more than 10 seconds to remember the entire lyrics. I simply LOVE this song ❤️
🇳🇴 Robert I. – Although maybe not among the highest quality songs from Norway, it is catchy and brings me in a good mood. I still find myself humming to it now and then. Apparently this was the first drag act in the Eurovision Song Contest. I like the choreography and the performance from Olav Klingen and Jonny Nymoen from the drag group Great Garlic Girls together with the vocalist Ketil Stokkan.
🇨🇿 Josef Š. – I had never heard this entry before, and I am very positively surprised. I love 80's and that's what I love in Romeo. Also the performance is very theatrical which is another thing I love. And on top of that, it has catchy melody and a small dance. I can imagine myself partying to this song from now on. Ketil Stokkan is a pleasant surprise for me.
🇸🇪 Jill R. I only remember three songs from 1986 – the winner J'aime La Vie from Belgium (which was my favourite), the Swedish entry (which doesn't count since I'm Swedish) and Romeo from Norway. I don´t remember what I thought of the song when I heard it then, but now I think that Romeo is likeable and catchy. But it is not the kind of music I normally listen to and I haven´t listened to it intentionally since 1986. It is far from fantastic, but since I haven´t forgotten it after all these years, it must have something rememberable.
🇧🇦 🇩🇰 Elvir P. – I am ambivalent about Norway's entry from 1986. Although the song sounds sweet and pleasant, accompanied by a quite interesting and different staging, I find the whole performance a bit cheesy and monotonous.
🇬🇧 🇮🇪 William S. – If in right, the first attempt at drag in Eurovision (although that could be debated with a few previous entries, haha). This is such a fun number and Ketil definitely knows how to perform. I love the simple, but effective choreography, it is a little repetitive but not enough to make it annoying.
🇨🇴 🇫🇮 Alvaro S. – This is very 80s in every aspect: the song, the dresses, even the cheerful choreography. I am conflicted. I am not sure if I have to laugh with this act because there is something silly about the theatrical dresses or just find this whole performance cute.
🇬🇧 Michael O. – Norway generally is one of my fave countries, but their winner the year before and this one are very disappointing. Nowhere near as good as say Luxembourg and Yugoslavia this year. This was a very non descript entry for the home team.
🇫🇷 Bernard D. – Ketil Stokkan with Romeo offers us a pleasant and joyful entry. In the average of 1986 but not enough to enter my top 10. 5/10.
🇳🇴 Steinar M. – He has better songs I think. I find this song too simple and cheesy. I get bored of it quickly. It does have some clever lyrics about getting the attention of a certain Mrs. X though. I don't like the dancing, which looks too tacky. And I don't like the drag performance either, as usual when it comes to Eurovision. Outside Eurovision, I can enjoy drag though. The music is the main thing of course, and in this case I don't like the song. A simple pop song can work well, but I find this too "plain". I hope I can be more positive (as up to now) in my next review 🙂.
🇭🇺 Vangelis M. – I find it really funny Norway's entry in 1986. I had never heard it before, but I have seen the "dance" before. The costumes are funny and the whole act appear more like a parody to me than a competing act. Again not one of my favorites, but at least you can remember it.
Enjoy Ketil Stokkan's performance from the 1986 Eurovision Song Contest in the embedded video. Below the video, you can read more about Ketil Stokkan.
Ketil Stokkan – a mini biography
He is born in 1956 in Harstad in the North of Norway. His career started mid 1970's with a couple of years in the band Nexus. The public success came after 1977 when he joined the band ZOO. With first two albums in English, and then four in Norwegian – with Ketil as front vocalist and main songwriter, this band became a household name in Norway.
In 1983, the ZOO members went each their way, and Ketil Stokkan began his solo career. First stop on that career was the Norwegian national final. He finished second in 1983. Later he would take part two more times; in 1986 and 1990 – and win the Eurovision ticket on both of those occasions.
Nexus got back together again in 1989, and shortly after changed name to Stokkan Band. Zoo got back together again in 1999, and Ketil Stokkan got busy. He was now working as a school teacher and performing with Zoo and Stokkan Band. In recent years, he has been performing with the band Funky Ducks.
Three Melodi Grand Prix and Eurovision participations from Ketil Stokkan
1983: Samme Charmeur finished second in the Norwegian national final
1986: Romeo won the Norwegian final, and finished in 12th place at the Eurovision Song Contest
1990: Brandenburger Tor won the Norwegianl final, and unfortunately finished in tied last position (21st) with Finland
Join the Fan Panel
Do you want to join our Fan Panel? We'll ask you for your opinion on a former Eurovision entry or a Eurovision related topic approximately once a week. Your opinions will be used in articles like this.
Send us a message on Facebook, and we'll get back to you.