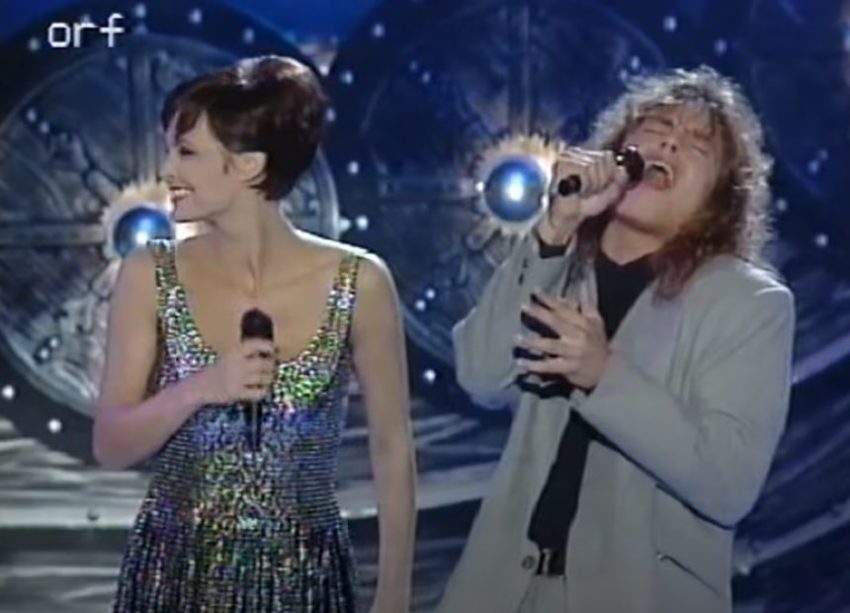 Can you sing about infidelity on the Eurovision stage? Yes, Denmark did so in 1992. Kenny & Lotte covered it up in a classic pop tune, which many Eurovision fans still like. Despite the lyrics, this song deserved, in many eyes, more than a 12th place.
On the 29th of February, the 4th largest city in Denmark; Aalborg, hosted the Dansk Melodi Grand Prix. 10 acts took part in the national final that was hosted by two former Eurovision participants; Anne-Cathrine Herdorf (Denmark 1987) and Anders Frandsen (Denmark 1991).
Five acts made it to the second round voting. Televoting divided onto the nine regions decided the outcome. Kenny & Lotte's Alt Det Som Ingen Ser won despite only being first with three of the nine regions.
Alt Det Som Ingen Ser translates to 'What no one sees', and the lyrics tells about infidelity. The female part Lotte is at a party with her boyfriend, he gets upset and leaves. She stays at the party where the male part Kenny then suggests 15 minutes or more for sex. For a bit, she is hesitating, but he quickly convinces her that they can sneak away without anyone seeing them. Finally, she goes along with it as 'what no one sees, no one can feel bad about'.
At the Eurovision Song Contest, Denmark finished in 12th place with 23 participants. No countries had 12, 10 or even 8 points for Kenny & Lotte. They received points from 10 countries with seven from Sweden being the highest score.
Alt Det Som Ingen Ser – opinions from fans
In order to find out what Eurovision fans today think of this Danish entry from 1992, we asked our Eurovision Fan Panel. It includes team members as well as fans from all over the world.
🇩🇰 Charlotte J. – How can you be so smiling when singing about cheating? Looking aside the lyrics, I do love the song though. It's catchy, easy to sing along to – and both are strong vocally, in particular Kenny who is a real joy to listen to. The lyrics are on the side of being 'too much'. Back then, this was one of two favourites I had in the Danish final. 1992 was actually my first Melodi Grand Prix live. I was 16, and had saved the money from my newspaper round to be able to buy the ticket. I was happy when this won.
Being that young, and not having a boyfriend either back then, I didn't think much of the lyrics. If they wanted to have fun, why not? I am older now, and have been with the same guy since 2007, and now, I am not that much fan of the lyrics, but I really love the song, which should have finished in top 5.
🇬🇧 Steve P. – The Danes have always been good at lively and fun songs, and Kenny and Lotte gave us one of the best! You can't beat a good argument set to music, either! Put the two together and this is one of the most enjoyable three minutes of the 1992 contest. The smiles of the singers gloss over the nature of the lyrics a bit, but if you don't understand the lyrics, why would that matter? It will probably remain one of my favourite Danish Eurovision songs, and I'm not complaining.
🇵🇹 Inês M. – I believe that this song worked well because of the chemistry and balance between the duet of vocalists. This combination between them was good and effortless. It is a happy song, a feel good song that is easily heard. However, the live orchestra's performance did not work so well and hindered the performance of the duet.
🇨🇴 🇫🇮 Alvaro S. – This song has a good beginning although it is a little bit sloppy for my taste. The chorus is catchy. I also have the impression that Lotte's voice is overshadowed by the sound of the orchestra.
🇬🇧 Michael O. – This is yet another Danish entry that pays no regard to what year it is, music wise, but I actually like this one. The whole team work well together and the tune is very memorable, and the lead duo are both good singers, One of Denmark's better entries.
🇳🇱 Jacques H. – 1992, I remember that year well. Huge shoulder pads and Linda Martin's Why Me? as victor. her dress needed only one extensive shoulder pad. I loved that song, but didn't particularly liked musical star Michael Ball's One Step Out Of Time as runner-up. I preferred the Danish couple Lotte Nilsson & Kenny Lübcke as number two. Lotte in her little glitter frog and Kenny in his Miami Vice-like oversized suit and blonde curly hair like a true poodle. The contrast couldn't be larger. That aside, you end up with a lovely upbeat song that deserved so much better than a 12th place.
🇲🇹 Luke B. – Denmark 1992 is a good uptempo song, full of life and vocally performed quite well too. Being an uptempo song, I would have worked a bit more on the actual performance on the night since they seem a bit like two people wondering on the stage and not knowing what to do but, nevertheless, this was a great attempt by Denmark and should have ranked better on the night.
🇩🇰 Liza P. – This was a nice trip down memory lane. I've always loved Kenny's vocal – but not his hair 😊
And actually both Kenny and Lotte have very strong vocals. The chemistry among them also seems quite fine. But now that I see this again, I think that Kenny seems a bit stiff on stage. Especially his hand movements. Generally I think that a 12th place was well deserved – however I think that they were better than France and The Netherlands. A nice song, but not our best entry.
🇬🇧 Louis E. – This song is a big guilty pleasure for me. When I first heard it the chorus reminded me a lot of latin music but made more typical scandi-schlager by the arrangement. The modulations between the verses and choruses make it more interesting even if it gets a little tiring towards the end, but regardless of this, after listening to it the melody is guaranteed to stay playing in my head.
🇨🇿 Josef S. – Oh what a surprise. Such a catchy and likeable duet from Denmark, that's really a pleasant surprise as I did not expect that at all. Their vocals are flawless and even though I don't understand a single word in Danish, I know I love this 👍
🇸🇪 Sara T. – This song is happy enough, and they're both good singers, but for some reason the song annoys me. It feels like a song that I would forget immediately after listening to it. Not a favourite of mine.
Enjoy Kenny & Lotte's performance from the 1992 Eurovision Song Contest in the embedded video. Below the video, you can read more about them.
Kenny & Lotte – a mini biography
Lotte Nilsson was born in 1965 in Aalborg, Denmark. She attended Mellervang school in the city, and started her musical career in the schools choir. In the 1980s that choir was widely known in the country for fostering great singers. Choir leader Niels Drevsholt put the two singers Lotte and Bodil together for the duo Snapshot. They became an instant success, over the years they released six albums together. The duo took part in the Danish national final; Dansk Melodi Grand Prix four times in the period from 1983 to 1989. The most famous of their Danish final entries is Gi'r Du Et Knus (Do you give a hug), runner-up in 1983.
When Snapshot stopped as a duo, Lotte was then paired with Kenny Lübcke for the 1992 Danish final, which they won. At the Eurovision Song Contest, the duo finished 12th with the song Alt Det Som Ingen Ser. Lotte also did some TV work, and in 2015, she was part of the Danish Eurovision jury.
Kenny Lübcke is from Copenhagen. He is born in 1966, and can sing various genres. He has been lead singer in heavy metal bands, and has often provided backing vocals. Aside from representing Denmark at the 1992 Eurovision Song Contest together with Lotte, he has provided backing three times at Eurovision; in 1999, in 2002 and again in 2005.
In 2001, he took part in the Danish Melodi Grand Prix final solo, but backed up by Parber Kerstein Band with the song Drømmer Om Dig (Dream about you), which finished outside the top 5.👍