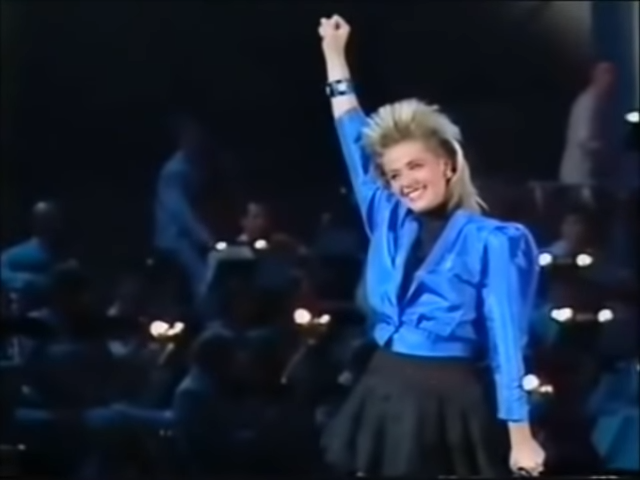 She finished 9th at the 1987 Eurovision Song Contest. The height of her hair impressed many, and vocally Kate Gulbrandsen didn't fail to deliver either in this Norwegian entry. 'Mitt Liv' stands as a musical highlight for Kate who lives a rather quiet life, often away from the spot life. 
"Jeg må gripe sjansen nå, men kan jeg stole på, meg selv, mitt liv?". I have to take the chance now, but can I trust myself, my life?
That's the question Kate Gulbrandsen asks herself in her 1987 Norwegian entry. She has a dream, but understands, that it's up to her, if it should come true or not. She wants to take the chance, but she is doubting if she can trust herself, does she dare to so?
Kate reached the Eurovision stage by winning the Norwegian Melodi Grand Final on the 28th of February 1987. At the Eurovision Song Contest, she finished 9th.
Mitt Liv is written by two well known Eurovision winners; Hanne Krogh and Rolf Løvland. Hanne won Eurovision in 1985 as part of Bobbysocks. Rolf Løvland wrote that Bobbysocks winner La' Det Swinge, just as he would later win as both artist and composer as part of Secret Garden and their Nocture in 1995.
Mitt Liv – opinions from fans
In order to find out what Eurovision fans today think of this Norwegian entry from 1987, we asked our Eurovision Fan Panel. It includes team members as well as fans from all over the world.
🇬🇧 Michael O. – What a great opener to a contest. A simply composed song sung without any novelties, unless you count the electric hair cut. Another great song from Norway.
🇩🇰 Charlotte J. – I LOVE this song. It's one of my favourite Norwegian entries. I remember it from the 1987 contest where I fell in love with it. I was 11 years old. Due to Norwegian and Danish being that close, I was able to understand the lyrics – and for years, I was singing a slightly Danish version of it – in fact, I haven't stopped doing that. I also have a t-shirt with this song, which is one of my favourite clothing, only used at special occasions 😀 The music, the lyrics – it all speaks to me.
🇳🇴 Stine F. – If you look up «the 80's» in an encyclopaedia, it would not be unlikely to find a photo of Kate Gulbrandsen there. The hairdo, outfit and even the song I would say is a perfect representation of this decade. Being a Norwegian myself, this song is not among my favourite entries from my dear country. 9th place was fair in my opinion. However, I am a sucker for modulations and high note-endings, and Kate sure pleased me in that way.
🇦🇺 Vivienne F. – The only song I loved in Eurovision 1987 was Johnny Logan's Hold Me Now, and that's not being bias, just because I'm Irish too (I hope). Mitt Liv was ok, I liked the intro and the trumpet, but it didn't do anything for me. She sang well, presented nicely, good backing singers, but that's it, nothing special, it's a forgotten song for me.
🇨🇿 Josef Š – This is somewhere in the transition from 80's oldies pop to the already modern era of 90's. This type of Scandinavian ballads is something I usually like, as well as key change. Kate Gulbrandsen has iconic look, that's really wow, such a crazy hairstyle. She even hit the long note at the end. Even though, I try to be objective, again as many times before, I cannot find a single thing I would dislike in Mitt Liv.
🇨🇴 🇫🇮 Alvaro S. – When I listened to this song I got the impression that Kate made a good combination of the best of the orchestra times with the sounds of pop from that decade. In particular, Mitt Liv reminds me a little bit of Madonna's Crazy for You, no only in the style of pop she is delivering. It also has this innocent feelings from the lyrics and the introspective sound of it. The aesthetics of this performance reminded me what Cindy Lauper was doing back from that time.
🇩🇰  Tina M. – It is clear from the very start, that this is a Eurovision song. The song Mitt Liv with Kate Guldbrandsen from Norway participated in the 1987 Eurovision Song Contest, and made it to number 9.
Kate delivers very fine and confident vocals for the song. Unfortunately, I think the song is a bit monotonous, and the only interesting parts happen in the chorus. The song never reaches a higher level of excitement, and I find that deep down it's a bit boring.
I am not excited about the song – I give it 4/10 points, and it is the chorus and Kate's good vocals that pulls it up.
🇩🇪 Pascal W. – I really love Nordic languages and so it's easy for me to like this song. But in my opinion the song needs a stronger climax, the key change just isn't enough for me here.
🇸🇪 Sara T. – This song did not peak my interest, unfortunately. The song is too plain and sounds like a more boring version of a classic 80's ballad. The lyrics are too cliche, and I'm not that fond of the singer's voice. I am very impressed by the height of that hair though!
Enjoy Kate Gulbrandsen's performance from the 1987 Eurovision Song Contest in the embedded video. Below the video, you can read more about her.
Kate Gulbrandsen – a mini biography
If her 1987 Eurovision entry is a story from her own life, it would be easy to conclude that when she is wondering if she has the courage to follow her dream, if she can trust herself or not, the answer probably is that she decided not to go all in for it.
Two years after her Eurovision 9th place, she took part in the Norwegian national final once again with the song Nærhet. Only top 3 was placed, which didn't include her.
Kate has lived what appears like a rather quiet life outside the spotlight. She sang the official Norwegian song for the 1998 Winter Paralympics. In 2004, she made a small comeback with a single release of Dolly Parton's Jolene, which earned her 11 weeks on the charts, and a position as 8th most popular song on the charts in 2004 overall. The following year, in 2005, she released the album Vi To, which included her Jolene single. Aside from that, she has been off spotlight. From time to time, she does appear at Melodi Grand Prix occasions to perform Mitt Liv from 1987. In Norway, that song is well remembered by most people.