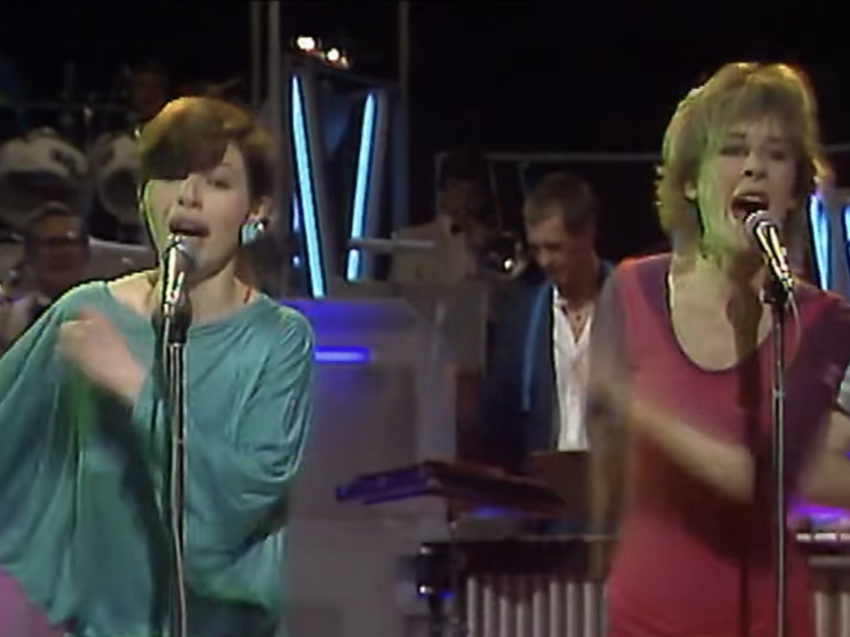 Who'd have thought that a Eurovision National heat would be so controversial. Yet in 1983, Pas De Deux, with their song 'Rendez-Vous' was met with jeers and boos when it was chosen as Belgium's Eurovision entry.
In 1983, Belgium held three pre-heats to find their entry, split between three males, females and groups, who each sang three songs, sending the most popular to the final.

On March 19, 1983, at the Eurosong final, Pas De Deux performed their song in seventh place. The studio audience preferred the male singer, Bart Kaëll and his song Symphoie, who performed one place before them, but ended in fourth place. When it became apparent, Pas De Deux were going to win, a lot of the audience left, booing and jeering.
Pas De Deux headed to Munich, West Germany and on April 23, 1983 performed 19th out of 20 songs, scoring 8 points from Spain, 4 from the United Kingdom and 1 from Portugal, a total of 13 points, and ending in 18th position on the scoreboard.
Rendez-Vous – opinions from fans
In order to find out what Eurovision fans today think of this Belgian entry from 1983, we asked our Eurovision Fan Panel. It includes team members as well as fans from all over the world.
Michael O. – I always thought this was a very original entry, in the style of the Human League. Watching the brass section of the orchestra tooting their instruments, is a Eurovision highlight. An entry way ahead of its time. Eurovision saw the future with this entry.
Charlotte J. – A song very typical of the first half of the '80s. Not bad, but not really good either. The music is good and the orchestra is really good for this one, but the song is way too repetitive for me. And that staging – I get dizzy from all that swinging with the arms. The result 18/20 is quite fitting actually.
Enis H. – If I'm not mistaken this one was controversial in Belgium. Nonetheless I don't like it. It's just… boring. The dance moves are weird, and I dislike the lyrics and their voices
Aaron S. – Despite the controversy and how the entry was received, I actually like this entry, it has a good feel to it, it is upbeat and a very nice entry. I think it is sad the song didn't get a good reception, as artists should always be respected as they work hard on their entry.
Pascal W. – The song starts pretty promising with just the drums and brass and them coming on stage. But unfortunately it gets a bit boring after a minute because it seems like you have heard the whole song until then and the rest is just very repetitive.
John D. – This was fun albeit a bit repetitive. If Devo's Whip It replaced the synthesisers with an orchestra it might sound a bit like this. I can see them doing this in children's TV. 1983 was a good year even though Spain and Turkey failed to score a point. Belgium's entry could have done the same with only The UK, Spain and Portugal giving it votes. Great nostalgia with 83.
Robert I. – At first impression it's so bad. But then it gets fascinating to the extent that it actually gets good. It's certainly an original and odd entry, and I wish it hadn't been so repetitive. Still, my final verdict is that I like it.
Pawel J. – The contest in Munich produced a few Eurovision classics- like Si La Vie Est Cadeau, Hi or Främling. Belgian entry that year is not one of them. The performance starts very promising – bare feet, all the characteristics for the 80's sounds and the rest is like a disaster. Rendez-vous with waving arms and boring very monotonous rhythm for almost three minutes. It's one of those very disappointing, slightly annoying and luckily, forgettable songs. One of the worst Eurovision songs ever.
Alvaro S. – It was so funny how the girls from Belgium entered to the stage. The tune is catchy even if the lyrics are repetitive. It is a song fun to listen and a guilty pleasure.
Pas De Deux – a brief biography
Pas De Deux were a trio comprising of musician Walter Verdin and singers Dett Peyskens and Hilde van Roy. They formed in 1982 when they released their first single, The Lonely Guys, and an album, Des Tailles, which contained six songs, including covers of John Lennon's Instant Karma and Cold Turkey.
In 1983 they represented Belgium at Eurovision with Rendez-Vous, which also featured on later pressings of their debut album.
After Eurovision, a second album was released, called, Axe Ends, which officially contained their Eurovision entry. A third and final single, Mani Meme followed.
The group split at the end of 1983 and Walter became a successful videographer in Belgium. Dett went on to act in the Belgian film, The Wall, playing the character, Nicole.
Hilde dropped out of music, and went on to become a journalist.