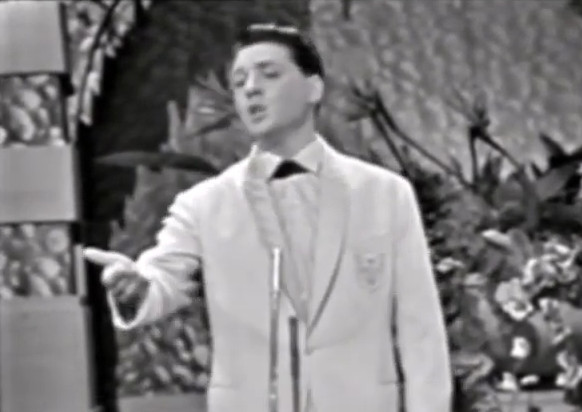 Dario Campeotto's career kick-started with the song 'Angelique' in 1961. After winning Dansk Melodi Grand Prix, it finished 5th at Eurovision. 60 years later, Eurovision fans react to the song that is now a classic in Denmark.

Seven songs took part in the Danish final; Melodi Grand Prix 1961. The national final was for the first time broadcast live outside of Copenhagen, at Fredericia Teater. The rather unknown 22-year-old Dario Campeotto won ahead of other very established names such as Katy Bødtger (Denmark 1969), Gustav Winckler (Denmark 1957), Birthe Wilke (Denmark 1957 and 1959), Raquel Rastenni (Denmark 1958) and Otto Brandenburg. The latter had scored a massive hit with his 1960 Danish final entry.
Dario won a very clear victory with double the amount of points as the second placed song. Afterwards, it wasn't just the rather unknown young singer with Italian background that stole the attention; the even more unknown songwriter caused professionals to wonder what was going on. They had been beaten by an amateur; a 61 old year old pensioner Aksel V. Rasmussen.
At the Eurovision Song Contest, Denmark finished in a tied 5th place alongside Italy's Betty Curtis. Denmark's 12 points came with 8 from Norway, 2 from Sweden, 1 from the Netherlands and 1 from Finland. Dario's Italian background hadn't helped him to score points from Italy.
Dario Campeotto has later released this song in an untraditional English version as well as a more classic Italian edition.
Angelique – opinions from fans
In order to find out what Eurovision fans today think of this Danish entry from 1961, we asked our Eurovision Fan Panel. It includes team members as well as fans from all over the world.
🇬🇧 Steve P. – In 1961, a few countries tried something more chirpy than the, by now, usual ballad, Denmark wasn't one of those countries! Many of the ballads from that year now sound quite dated, but Angelique has aged quite well and, although it lasts for almost three and a half minutes, the time doesn't drag. A lot of the older songs are ignored today by more recent converts to the joys of Eurovision, but this song is a decent example of what they are missing out on.
🇩🇰 Charlotte J. – This is one of my favourite Danish entries. It is such a lovely song carried by Dario's outstanding vocals – and beautiful lyrics. To me, it doesn't get much better than this, I have always loved it, and almost get tears in my eyes when he sings it today. At the age of 82, Dario still sings this song very well. Love it ❤️
🇳🇴 Steinar M. – Denmark did well, and the 8 points from Norway certainly had an impact. This was a big hit all over Scandinavia. But I don't think it has stood the test of time well. Too boring, too middle of the road, and too uneventful musically. But, as typical for the period, nice to see and hear a totally gimmick-free, well sung performance.
🇹🇷 Günec G. – A beautiful song from a velvet voice. A classic 60s, very elegant.
🇨🇴 🇫🇮 Alvaro S. – This song has this elegant, sober mystique of the ballads from these times. I like the introspective atmosphere of the interpretation and the sign of the times this song came to be in Eurovision.
🇨🇿 Josef S. – This is really one of the most classical songs from Eurovision. It is flawlessly sung and perfectly fits the era of the 60s. I like this style of music, because I also love old movies. And extra credits go to Denmark for the beautiful Danish language. I actually can't say anything bad about this Eurovision entry. Maybe only that you need to be in this "old-fashioned" mood to like it. Most young people would probably hate it as it is not modern enough.
🇬🇧 Michael O. – This is the type of song I remember getting played at 78rpm on my grandads gramophone. To be honest I don't see why Luxembourg won and what made it stand out any more than this Danish entry, the Allison's were the only act from 1961, that didn't sound like it came from the war years. Eurovision still needed to catch up.
🇬🇧 🇹🇭 John E. – A clear winner of the Dansk Melodi Grand Prix this song harks back to a time of solo male and female contestants, a live orchestra and an audience dressed in formal attire. I find this song unmemorable unlike Luxembourg and the UK who came first and second which clearly stood out.
🇪🇸 Mária P. – Quite an average song in line with the taste of that period. In my opinion it's just pleasant, but not outstanding. The melody sounds a bit bland, the performance was fine.
🇩🇰 Tina M. – A completely unique and beautiful song from Denmark. "Angelique" has become an evergreen and rightly so. A timeless song sung by Dario, who is still active – it's absolutely incredible. The song should have won in 1961, as the song just has everything a Eurovision winner should have. A beautiful melody, a fantastic singer, who can give the song fullness and depth and a chorus that is easy to sing along to. This song is a musical wonder. A song I like 7/10.
Enjoy Dario Campeotto's performance from the 1961 Eurovision Song Contest in the embedded video. Below the video, you can read more about him.
Dario Campeotto – a mini biography
Under the name, Dario Carlo Giacomo Campeotto was born in 1939. His parents Emma and Ernesto Campeotto moved to Denmark in 1928 as Ernesto got a high position job for Fiat Denmark. In the early 1960s the parents moved back to Italy. Dario stayed in Denmark, although he in the period from 1967 to 1973 lived in Italy himself too. He opened a Danish art store in Torino, Italy. As the stages in Denmark offered him more and more jobs, he moved back to Denmark and continued his career.
He is by now a much loved household name in Denmark, and has been that through many decades. He got his big breakthrough in 1961 by winning the Danish Melodi Grand Prix with the song Angelique. Afterwards, he finished 5th at the Eurovision Song Contest.
Over the years, Dario has released lots of albums. The latest, a Christmas album came out in 2017. In 2014 and 2015, he also released two albums in Italian. Dario has recorded songs in Danish, English and Italian.
Dario is not just a singer. He has also starred as actor in many films, theatre performances as well as revues. In several of his films, his great singing voice has come in use too. Despite the age, Dario is still going strong – and he still sings well. In 2006, he surprised many when he appeared as a featuring act on Kim Schwartz' Melodi Grand Prix entry Åh Amore. In 2021, he appeared on TV singing his Angelique in a warm-up show for Dansk Melodi Grand Prix.
Dario Campeotto in 2021
In the embedded video below you can watch Dario Campeotto perform Angelique from the 5th of March 2021. This performance is from a special Melodi Grand Prix warm up edition of Fællessang – Hver For Sig.