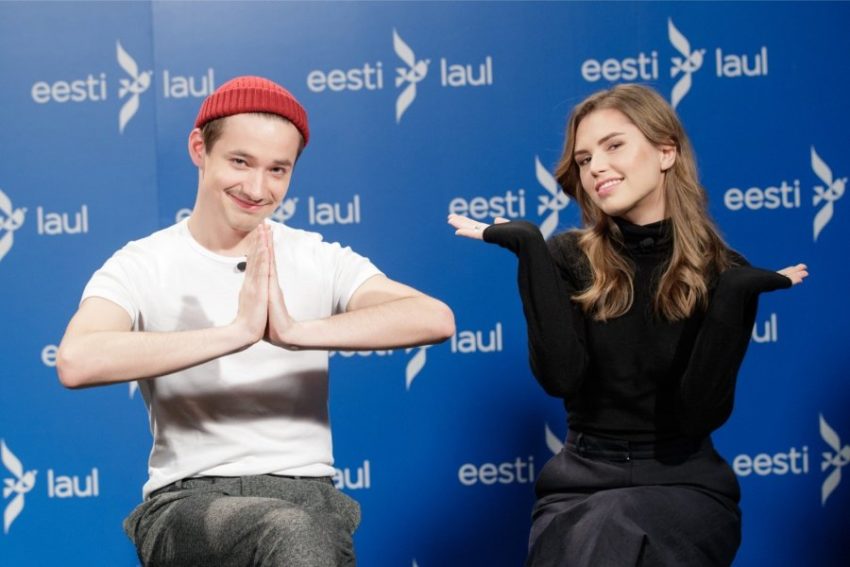 The five last finalists for Estonia's Eest Laul 2018 were just selected. The alternative group Frankie Animal and the sassy Nika were amongst the chosen ones and will compete at the show's Grand Finale next 3rd of March.
Last week, Stig Rästa, Elina Netšajeva, Vajé, Iiris & Agoh and Sibyl Vane were crowned as the five first finalists of Estonia's Eesti Laul's 2018. Tonight, the five last ones were selected during the show's second semi final.
As of now, the show will take a week break to comeback next 3rd of March for its Grand Finale where only one will be crowned as the winner and will travel to Lisbon to represent Estonia at the 2018 Eurovision Song Contest.
The Show
Just like the previous week, Kristen Aaslaid and Martin Veisman were in charge of the show's presentation and for the interviews with the ten contestants.
The performances were again more pre-recorded.
The Songs
1. Marju Länik – Täna otsuseid ei tee
With a very feminine performance and song, Estonian singer Marju performed in a dressed decorated with butterflies. The song could be seen as a soft Pop tune with a few Country influences.
2. Rolf Roosalu – Show a Little Love
Bringing the 80s back to life, Rolf's song could easily be an homage to Michael Jackson's sound back in the day. It may, nonetheless, sound a bit dated for Eurovision in 2018.
3. Frankie Animal – (Can't Keep Calling) Misty
Alternative music was kept alive during this second semi final with Frankie Animal (and not only). The band guided by Jan-Christopher Soovik brought to life one of the most interesting performances of the night.
4. Eliis Pärna & Gerli Padar – Sky
The duo truly represented a sky filled with stars on stage. Sky was the only ballad presented during Eesti Laul's second semi final.
5. Indrek Ventmann – Tempel
Talking about good performances. Indrek Ventmann's performance was one of the most dynamic ones even if he was sitting throughout the entire thing. Worth watching.
6. Evestus – Welcome to My World
Rock and roll made a comeback with Evestus that presented a rather distorted song with a rather strange scenario featuring men dressed as women.
7. Karl Kristjan & Karl Killing – Young (feat. Wateva)
Just like last week, the performances featured a few special effects as they were pre-recorded. During this semi final, it was Young that featured the biggest effects making it a quite colorful performance.
8. Metsakutsu – Koplifornia
During the first semi final, Tiiu, Okym and Semy brought Estonian rap back to life. This week, it was up to Metsakutsu to fill in the role.
9. Girls In Pearls – Spellbound
Dressed in white, the twins delivered one of the best productions of the night even if their performance was rather simple. Their song was clearly influenced by new alternative pop sounds that have encountered success recently.
10. Nika – Knock Knock
Think of an Estonian Iggy Azalea and you have Nika. Besides the great staging and the quite disturbing outfits of her dancers, Nika performed one of the most interesting songs of this second semi final where she mixed Pop, Rap and a few ethnic sounds.
The Results
In order to determine the five qualifiers, the jury's votes were mixed with the televoting – each being worth 50%. Initially, the four most voted acts were announced. Later, the voting lines were opened once more and the fifth most voted act made it through.
| | |
| --- | --- |
| Act | Result |
| Marju Länik | |
| Rolf Roosalu | |
| Frankie Animal | Qualified |
| Eliis Pärna & Gerli Padar | Qualified |
| Indrek Ventmann | |
| Evestus | Qualified |
| Karl Kristjan & Karl Killing | Qualified |
| Metsakutsu | |
| Girls In Pearls | |
| Nika | Qualified |
Estonia at the Eurovision Song Contest
Despite having won the contest once back in 2001, Estonia has failed to qualify two years in a row, having ranked last in 2016 with Play.
The country has been participating in Eurovision since 1993 and has a total of 24 participations. Out of those 24, nine times it finished among the contest's top 10.
In recent year's, the last time Estonia has made it through Eurovision's Grand Finale was back to 2015 when Stig Rästa and Elina Born performed Goodbye To Yesterday. Remind yourself of their performance in the show's Grand Finale: