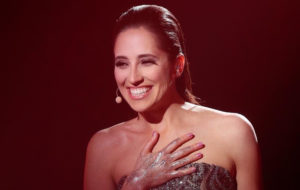 Fan favourite Elina Nechayeva won the Estonian national selection and will therefore represent the country in Lisbon with La Forza. The country is now one step closer of winning the Eurovision Song Contest taking in consideration this year's bets.
Estonia is among the favorites favourites win Eurovision this year, thanks to one of the strongest national finals Estonia has ever done. They're third on the betting odds, before tonight's show begins… So, this evening promised a lot.
Waterfall
, after which she is joined on stage by her Eurovision partner, Koit Toome, for singing last year's hit 
Verona
.
Presentations made, it is time to introduce the hosts and the singers that will compete for the victory through ten acts.
The songs
1. "Young" by Karl Kristjan & Karl Killing feat. Wateva
It all starts with a very happy, modern and joyful English song… Two young boys, dressed in a hip-hop style. sing enthusiastically in a very colourful performance. The song is good and it sounds fresh. They would bring some energy to the Eurovision stage, for sure.
2. "Sky" by Eliis Pärna & Gerli Padar
After two boys, now it's time for two blonde women sing an English ballad. They show us a mysterious and very well-designed performance, with blue stars giving some light to the darkness that involves the stage. The melody is beautiful. However, the weakest point of the performance seems to be the fact they are at the same place, during all the song, only separated by a kind of mirror. It definitely appears a bit static. A good song, though.
3. "Knock Knock" by Nika
Now, it's time for a very alternative pop song. Nika starts it, sitting in a chair, with a snow landscape behind her. Then, three dancers, with their mouths covered. join her on stage. With the help of the choreography and some camera angles, the performance shows all the female power, in very sensual and attractive performance.
4. "Thousand Words" by Sibyl Vane
One female singer playing guitar, with a red hat, present us a pop-rock song, joined by two musicians… one playing electric guitar and another one on the drums. The best of the performance seems to be some solid camera angles accompanying the rhythm of the song.
5. "Home" by Stig Rästa
Do you remember Stig Rästa from Eurovision 2015? Well, he's back!! With his very known guitar, he's singing a ballad, this time all by himself, in a very vintage stage, with old chairs, some violins, a cell and lamps. The song is good and cute. However, in a very strong national final, it may be difficult for him to go back to Eurovision. Let's see…
6. "Laura (Walk with Me)" by Vajé
Another male singer, now presenting us a pop song, a very good one, indeed… The staging is awesome and a kind of mysterious, with a female dancer interacting to him, in a very sexy way. Also, a guitarist join them during all the performance. Twin Peaks, anybody?
7. "La Forza" by Elina Nechayeva
Here she comes, the lady responsible for placing Estonia as one of the favourites to win Eurovision this year, if she wins, of course. With a very classical performance, dressed in a beautiful and big white dress, Eline gives us a stunning performance, with amazing vocals. Will she win tonight's show?
8. "(Can't Keep Calling) Misty" by Frankie Animal
Another three members band, playing an alternative pop-rock song. All stage is dark, which give us one more time some mysterious feelings. The song is very good and the camera angles favours the performance. It would be a atypical choice for Eurovision, in a good way…
9. "Drop That Boogie" by Iiris & Agoh
Wow, what a fresh and modern song! It all starts with the female singer lying down in a white sofa. And white is the main colour of this performance. She's dressed in white clothes, as well as the two dancers that join her on stage. In a very colourful performance, with some pink lights, this is a very different act, comparing to the other performances.
10. "Welcome to My World" by Evestus
Wow, again… We were not expecting this… Imagine three gothic band members, joined by two drag queens on the backing vocals, all singing a kind of rock song… Strange, isn't it? But this is all about Eurovision… so, it isn't very strange, actually. It's a good performance, though. Will it get lucky in the voting?
The results
| | | | |
| --- | --- | --- | --- |
| Song | Jury | Televote | Total Pt |
| 1. Young | 3 | 7 | 11 |
| 2. Sky | 1 |  3 |  4 |
| 3. Knock Knock |  4 | 1 |  5 |
| 4. Thousand Words |  10 |  4 | 14 |
| 5. Home | 7 |  10 | 17 |
| 6. Laura (Walk with Me) | 5 |  8 |  13 |
| 7. La Forza | 12 |  12 |  24 |
| 8. (Can't Keep Calling) Misty |  8 |  2 |  10 |
| 9. Drop That Boogie |  6 |  6 |  12 |
| 10. Welcome to My World |  2 |  5 |  7 |
It's official!! Elian confirmed her favouritism and has won Eesti Laul 2018. Estonia is now one of the favorites to win Eurovision Song Contest 2018!
Watch Elina Nacheyeva's performance of La Forza in the Eesti Laul final.
Estonia at the Eurovision Song Contest
Despite having won the contest once back in 2001, Estonia has failed to qualify two years in a row, having ranked last in 2016 with Play.
The country has been participating in Eurovision since 1993 and has a total of 24 participations. Out of those 24, nine times it finished among the contest's top 10.
In recent year's, the last time Estonia has made it through Eurovision's Grand Finale was back to 2015 when Stig Rästa and Elina Born performed Goodbye To Yesterday. Remind yourself of their performance in the show's Grand Finale: