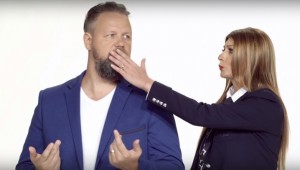 Estonia's audience and jurors continued to choose the qualifiers in this last semi-final for their national selection. Tonight, five more songs have been chosen to go through to the Estonian final and, among the songs of this semi-final, there were two familiar names. Who were they and who made it through this semi-final?
Estonia has finally chosen the ten artists who will compete to win the ticket to Stockholm.
Last week, the hosts of the show, Henry and Maris Korvits, announced the first five acts to go through to the national final of Estonia: Mick Pedaja, Laura, Kati Laev & Noorkuu, Cartoon feat. Kristel Aaslaid and Kéa.
The songs

Go Away Bird – Sally
This entry reminded me of Goodbye To Yesterday in style. The song was performed by a duet for the vocals and both did a good job.
Juri Pootsann – Play
Of note is the fact that the songwriter of this song is Stig Rasta, last year's Estonian representative. The song was simple and very classy.
Meisterjaan – Parmupillihullus
This act was a bit weird. It's another song style that is a bit disturbing. There was a mix of electronic sounds in this act. It's hard to listen to it because it's a different kind of entry.
I Wear* Experiment – Patience
The song was performed by a female singer with a strong voice. It's really different to the previous ones. She sang it well and sold it.
Pur Mudd – Meet Halfway
This act was a bit mysterious at the beginning but, quickly, the rhyhtm appeared. Enjoyable music with smooth voices.
Grete Paia – Stories Untold
Greta tried to represent Estonia in 2013 and attained third place in Eesti Laul that year. She was charming on stage, beautifully dressed and also a good voice.
Pohja-Tallinn & Jaagup Kream – Eiolemulolla
The song was sung by three rappers and one female vocalist. It's an enjoyable song with a good rhythm. Even the rap was enjoyable. This could be an interesting choice for Eurovision.
Anett Kulbin – Strong
The singer wrote her song by herself. She performed it really well. This was a beautiful ballad where the voice carried the story of the song.
Gertu Pabbo – Miljon Korda
The act had a breath-taking background. The song was a bit dreamy and also catchy. Another ballad but with more rhythm than the previous one.
La La Ladies – Unikaalne
Tanja, who represented Estonia in 2014, is part of the group as one of the composers of the song. It was an upbeat song, A different style of entry for this evening.
The Show
The show began with a quick reminder of who qualified last week and a presentation of the participants of the second semi-final.
The hosts announced that, apparently, the Finnish teen sensation Isaac Elliot will perform a song in the final of Eesti Laul.
The Results

| | | | |
| --- | --- | --- | --- |
| | | | |
| Go Away Bird | | |  FINALIST |
| Juri Pootsann | | |  FINALIST |
| Meisterjaan | | |  FINALIST |
| I Wear* Experiment | | |  FINALIST |
| Pur Mudd | | | |
| Grete Paia | | |  FINALIST |
| Pohja-Tallinn & Jaagup Kream | | | |
| Anett Kulbin | | | |
| Gertu Pabbo | | | |
| La La Ladies | | | |