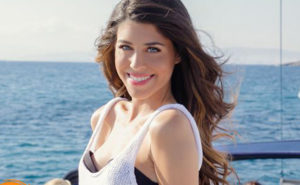 Despite what might seem like an unfair advantage, "This Is Love" will compete together with two other songs in the Greek national final. Broadcaster ERT decided not to disqualify the song after it leaked online. The song which is Demy's preferred, is now top favourite to win.
The Greek broadcaster ERT found themselves in a 'cat chase the mouse' game when one of the three songs for the national final on the 6th of March leaked. They quickly issued a Take-down of the video for the song This Is Love, but soon after it was uploaded again, and another Take-down took place. This game continued for a while and download links for the song spread across sharing platforms, and as such the song certainly gained a big advantage, and feared disqualification.
With sources within ERT, Greek Media reports that the broadcaster however decided not to disqualify the entry as they say that this leaked one, isn't the final version. A few changes should afterwards have been made, and as such the song won't have had any advantage over the others. The song however would have to sound completely different in order for anyone not to hear it as basically the same song. It might be a more likely explanation that this is believed to be the one the singer Demy described as her personal favourite, and the one with the biggest chance of doing well at the Eurovision Song Contest.
In other countries we have seen a leak of one song lead to an early release of all of them in order for none of them to have a significant advantage, but so far the Greek broadcaster has chosen not to do that either.
You can listen to the leaked song below – in full length:
Note: We can't guarantee that the video stays online.