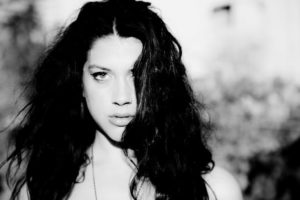 This evening, the broadcaster finally confirmed that Greek-Canadian singer Katerine Duska will be flying the Greek flag in Tel Aviv, Israel in May. Katerina wrote the song herself together with Leon of Athens, and it is in English.
Greek broadcaster, ERT confirmed in their TV News broadcast this evening Katerine Duska as the next representative of Greece in the Eurovision Song Contest. Dimitrios Papadimitrioy, who is the president of ERT's commitee about Eurovision selection contacted Duska's record company with a proposal to her. She immediately accepted the "challenge" and as such, she will represent the country in May this year.
At a press release sent out before tonight's presentation of Katerine Duska, ERT also revealed that Yorgos Kapoutzidis and Maria Kozakou return as Eurovision commentators. Last year, they were replaced by Alexandros Lizardos and Dafni Skalioni.
Who is Katerine Duska?
Katerine Duska is a Greek singer who was born in Montreal, Canada. Her parents lived there until they moved to Greece when Katerine was a teenager. She was first influenced by classical music, but later decided to work with more modern sounds, however before music took over too much, she studied law in Athens.
Back in 2013, Duska released her first single One In A Million, which became a great hit in Greece. Two years later, she recorded her first album "Embodiment". Katerine writes music and lyrics herself, but it is yet unknown if she has also be involved in penning this year's Greek entry.
Greece in Eurovision Song Contest.
The Greeks made their debut back in 1974. Since then, they have won once with Helena Paparizou and the song My Number One 14 years ago. Greece is however one of the most successful in the contest, having an always qualification record up til 2015. The last three years however, they faced a crisis as they missed out on the final twice.
Last year, Yianna Terzi sang Oneiro Mou in Lisbon. Unfortunately for the country, she only managed a 14th placing in the first semifinal. As a result, the country missed the final for the second time in the last three year.
In the video below, remind yourself of Greek's 2017 entry, their last final contestant, Demy's This Is Love. The recording is from rehearsals at the Eurovision Song Contest, but in a special multicam edition: