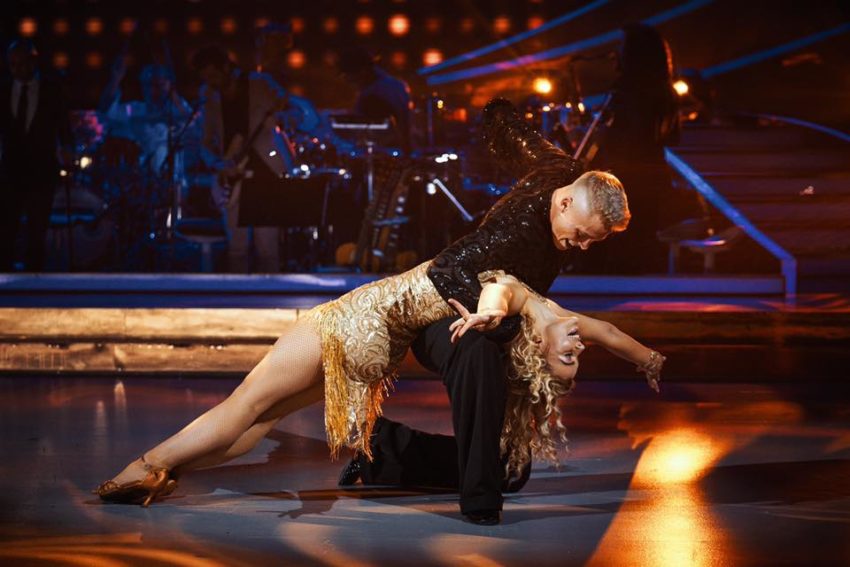 After six dances, Emmelie de Forest no longer had the TV viewers on her side. She leaves Strictly Come Dancing after an emotionel slowfox, which actually was her strongest performance in the show.

Emmelie de Forest won the Eurovision Song Contest in 2013 with the song Only Teardrops. She was asked to take part in "Vild Med Dans" (Crazy about Dancing), which is the Danish edition of the famous British TV format "Strictly Come Dancing" back then, but it didn't fit into her busy schedule. She was however still interested, and with more time for it now, she said yes to the 15th edition, which started airing on Danish TV2 six weeks ago.
She has been paired with professional dancer Frederik Nonnemann. Each week, they danced a new dance. One pair has to leave the competition each week – and Emmelie de Forest made it half way into the show.
In the first episode, she and her partner Frederik danced a quickstep to the tune of George Michael's I'm Never Gonna Dance Again. The four judges, Nikolaj Hübbe, Anne Laxholm, Britt Bendixen and Jens Werner were quite positive. They called it a good programme, they had put together and predicted that Emmelie can go far. After that first quickstep, Emmelie went through dances like Paso Doble, Wiener Vals, Samba, Cha Cha and finally Slowfox, which became the end for her.
Slowfox was Emmelie's favourite dance so far, and she also did better than before. In the second round, after ending in bottom two, she let go of her nerves and it showed. The beautiful dance was however not enough to convince the TV viewers, who, let's face her, have never been on Emmelie's side in this programme. They have always scored her lower than the professionel judges, and after three times in the bottom two, she was voted out.
While saying goodbye to Emmelie de Forest as our Friday evening entertainment, let's just make one thing clear, if you read online that Emmelie de Forest is 1,60 metre tall, you've read the same wrong information as her dancing partner Frederik Nonnemann! At their first meeting, he was surprised to realise that she is actually 1,67.
No Eurovision participant as winner
With Emmelie de Forest taking part in the Danish edition of Strictly Come Dancing, she follows the footsteps of several other Eurovision participants who test their dancing skills in this TV format. In Denmark, none of them however won.
Birthe Kjær (Denmark 1989) took part in the second edition. Simon Mathew reached the final and came second in the third edition in 2007, the year before he represented Denmark at the Eurovision Song Contest. Basim (Denmark 2014) was a part of season six, and triple Eurovision participant Kirsten Siggaard (Denmark 1984, 1985 and 1988) took part in season 13 in 2016.
To remind yourself of Emmelie's Eurovision entry, watch in the video below clip from an acoustic version of Only Teardrops.