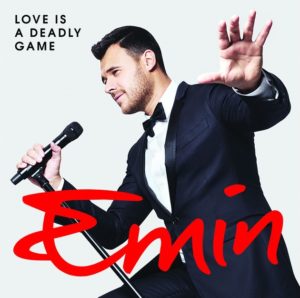 Ani Lorak, Polina Gagarina and American music legend David Foster are set to feature in a spectacular concert which will be aired across the USA. More than 50,000 people watched Emin and his special guests perform in the Heritage Palace Square in St Petersburg.
Azerbaijani born singer-songwriter Emin is keeping his promise to be the first Russian language singer to cross over into the Western markets. The interval performer from the 2012 Eurovision Song Contest in Baku has released a new album titled Love Is A Deadly Game. The album was recorded at the world famous Abbey Road studios in London which most will know from The Beatles.
Love Is A Deadly Game is an album of covers mixed together with some new songs. The bonus tracks feature duets with two of the biggest Russian and Ukrainian stars. Emin duets with Polina Gagarina in Always On My Mind. Originally a country music song, it was made famous by the late Elvis Presley in 1972. With Ani Lorak he sang another famous classic You Don't Have To Say You Love Me. The duets were recorded live outside the Winter Palace in St Petersburg. Also known as the Heritage palace, the area is of special significance as only a handful of singers have been able to perform there. Some of these include Madonna, Elton John and The Rolling Stones.
In October, Emin and Ani Lorak collaborated on the song Я не могу сказать (I can't say). The single was an instant smash hit in Russia. It also reached number 1 on the Ukrainian, Belarussian iTunes charts amongst others. The song was written and produced by Maxim Fadeev, the producer of 2007's third place Russian participants Serebro.
Ani Lorak and Polina Gagarina both scored second place at the Eurovision Song Contest. Ani represented Ukraine at the 2008 contest held in Belgrade, Serbia. Her song Shady Lady scored 230 points and therefore placed her behind Dima Bilan and the winning song Believe.
Polina Gagarina represented Russia at the 2015 contest in Vienna, Austria. Her song A Million Voices finished with 303 points which earned her 2nd place behind Måns Zelmerlöw from Sweden.
Love Is A Deadly Game is out now and is available to stream on Spotify and Apple music and is available to purchase on ITunes.
How can I watch the concert?
Emin live from Russia with David Foster will be aired in Michigan tonight at 9:30pm.
There will also be multiple broadcasts in Miami (WPBT TV) beginning on the 3rd of December. Additionally, it will be aired on the 2nd of December in New York (WLIW TV). Viewers are also encouraged to visit their local PBS website to see other broadcasts in their area.
Please enjoy Polina Gagarina's Eurovision entry A Million Voices in the video below: