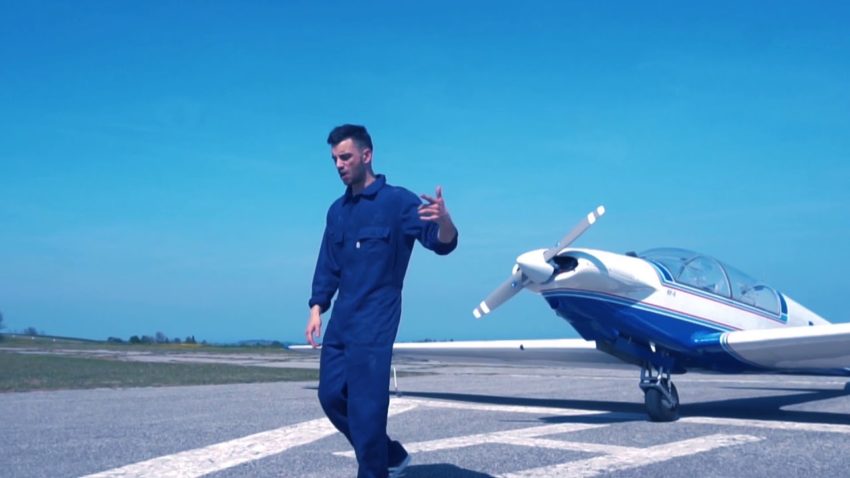 How does one get to San Marino? Ten out of the eleven chosen acts for the 1 in 360 national selection final are native to another country than the one they will try to represent at the 2018 Eurovision Song Contest. We take a look at what they might bring to San Marino.
Casting aside the likes of British talent Karl William Lund, Danish Sada "Living Doll" Vidoo and Cypriot, Nearxos Evangelou, at least ten of the acts, now find themselves wondering how they are going to travel to San Marino, to compete in the final.
The only San Marino native finalist is IROL, real name Lorenzo Salvatori. He was announced by San Marino "Eurovision royalty", Valentina Monetta, as the third wild card, from the 1 in 360 competition. San Marino has been using this selection method to find their 2018 act. Below is the full list of the chosen ones.
Jenifer Besky
German Jenifer submitted a cover version of Sia's Chandelier to the 1 in 360 competition. She is also a successful actress in her native country.
Franklin Calleja
Franklin placed 5th in MaltaSong 2015, with the Alexander Rybak penned Still Here.This was the song he used to apply for 1 in 360. He then placed third behind Ira Losco and Brooke in Malta's Eurosong 2016 with the song Little Love. He then came 5th last year with the song Follow Me. This year the Arkansas born, Msida native gives his home country a miss.
Sara de Blue
With her hair, a natural blue colour, Austrian Sara wailed her way to the San Marino final, accompanied by her trusted keyboard. Sara's Sex wasn't quite on Fire, in the Voice of Germany 2013, when she was eliminated against Katharina Schoofs in the Showdown rounds. However, Sara has continued to perform, having a big hit in Austria with Walking On Water in 2014.
Judah Gavra
Judah is often cited as a potential candidate for his home country, Israel. In 2013 he placed 4th with the song Hayom and has often been expected as a contender every year. However, this has not happened despite successful releases Falling and Stay.
IROL
24 year old rapper IROL has released 2 EP's Perso nel tempo and Distanze, along with one album Stato mentale. Born in San Marino he began rapping professionally at the age of 14.
Tinashe Makura
Tinashe is the only non European native chosen for the final. Tinashe comes from Zimbabwe but is often based in Malaysia, so he will have quite the flight getting to San Marino. Tinashe released the 7 track album, Hello in 2017. He auditioned with the summery title track.
Giovanni Montalbano
Italian Giovanni won the second wild card with a massive 388,712 votes. This means that if he is chosen as San Marinos entry and everyone who voted for him tries to buy a ticket for Eurovision, not only will they crash blueticket.pt' site – they will crash the internet. Giobanni auditioned with the song Between The Clouds.
Jessika Muscat
The second Malteser chosen for the finals. Jessika is another regular from the Malta Song contests, appearing in 2009 with the song Smoke Screen. In 2014 she came 8th with the song Hypnotica, and then she placed 9th with Fandango.
Camilla North
Norwegian Camilla released her own self-titled album back in 2008.She runs her own music school. She also is a model back home in Norway. Add to this list that she is a successful songwriter and has released several singles. Auditioning with Leonard Cohen's Hallelujah, being chosen as one of San Marino's top11 must be a career highlight.
Emma Sandström
Everyone's favourite third placer from Finland's UMK 2017 when she sang Circle of Light, here's Emma in San Marino as the first chosen wild card.
Sebastian Schmidt
The final contestant, Sebastian hails from Germany. He auditioned with Sara Bareilles song Gravity.
The dates for the final have yet to be determined. However, San Marino are out to beat Sweden and Lithuania, with eight shows, where the acts will battle it out. The top 3 contestants will compete against each other in the final. Nick Earles will host this final, where each of the three best will perform a cover and an original song.
Zoë Straub, Austrian representative in the Eurovision Song Contest 2016 and choreographer Vince Bugg have been confirmed as two of the four judges of the 1 in 360 shows. They will take place in January and February 2018.