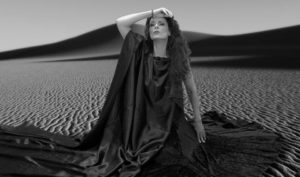 Double Eurovision participant Doris Dragović is back with the new song "Brod Za Nabolje". It is a modern ballad about unhappy love. It breaks a long period with no new music from the Croatian singer.
Five years after she launched her latest single, and ten years after her latest video, Croatian diva Doris Dragović is back with a new song and video.
Doris has previously participated in the Eurovision Song Contest on two different occasions. Back in 1986 in Bergen Norway, she represented Yugoslavia with the song Željo Moja and finished 11th. 13 years later, in Jerusalem, Israel, Doris came back to the Eurovision stage. This time she represented Croatia with the song Marija Magdalena. She finished 4th in the final, which equals the best Croatian result in the contest. Back in 1996, Maja Blagdan also came 4th with the song Sveta Ljubav.
Brod Za Nabolje, which translates to Ship For The Better is written and composed by Ivan Huljić. If Ivan's last name sounds familiar, it might be because he is son of Tonči Huljić, who in the past composed no less than four Croatian Eurovision entries: Nostalgija (1995), Marija Magdalena (1999), Strings Of My Heart (2001) and Lijepa Tena (2009). Ivan and Doris have worked together for many years, including her latest album Ja Vjerujem from 2009.
Doris' new song came as a big surprise, especially for her fans, whose reactions on Brod Za Nabolje are very positive. To the Croatian internet portal Index, Doris told, that she is not so much interested in how many views on YouTube her new song will achieve. She said that the beauty of the art and the soul is what matters to her.
Brod Za Nabolje is a typical Doris-ballad, where her pleasant and soft vocal is flourishing. In the video, Doris' outfit reminds very much about her choreography in Jerusalem back in 1999.
In the video below, you can listen to the new song from Doris Dragović: