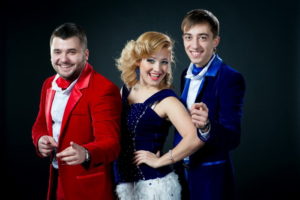 DoReDoS released a new version of their Eurovision entry "My Lucky Day". The song was remixed by German DJ Shantel known for his ethnic productions. It is still unsure which of the two available versions, they will use for Eurovision.
Last weekend, Moldova hosted their national selection – O Melodie Pentru Europa 2018 – where the group DoReDoS came out as the winners of the show getting both the public and the jury votes with 24 points.
Their song, My Lucky Day, was originally created by Philip Kirkorov – responsible for the 2008 Ukranian entry, Shady Lady, and Belarusian's 2007 entry Work Your Magic – along with John Ballard. To those two, we now add Shantel, a German DJ and producer known for remixing traditional Balkan music with electronic beats, who has remixed the song.
The new version features a bolder and smoother production with way more electronic elements in its instrumental that certainly makes it more Eurovision ready, but DoReDoS are still unsure whether this version or the original one should be used in Lisbon.
The "old" version is available on their YouTube channel. In the video below, you can listen to the new one. Which one do you prefer? Let us know your favourite, in the poll just below the video.
If the band really isn't sure, it remind of the San Marino situation from 2016. Serhat represented San Marino at the Eurovision Song Contest with the song I Didn't Know. The song wasn't that well received, but shortly after, he released a disco version, which people preferred instead. Before you knew it, it was announced that they would use the disco version for Eurovision.
The song still failed to qualify for the final, although it did finish 12 in the semi-final so it wasn't that far off.