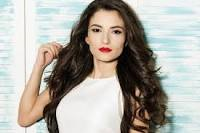 After a two year absence, Dilara Kazimova, the 2014 Azeri entrant, is about to return with new music. The track Running precedes a 6 song EP to be released in February. Dilara describes Running as one of the most personal and strongest songs that she has ever done.
Running was produced by Rozhden Anusi, while the very wintery video was filmed in Kiev and directed by Tanu Muino. The upcoming EP cover was shot by Sasha Samsonova. Dilara says that she was looking for her new self and that it took her some time. She claims the EP is very much about love, doubts, cheating, hope, faith and happiness.
The singer kept Azerbaijan's 100 percent qualification record when Start A Fire qualified from the first semi-final in Copenhagen. She finished in 22nd place out of 26 with a total of 33 points,
The song is neither happy nor sad but is the very honest Dilara. See what you think by watching the video for the song below.