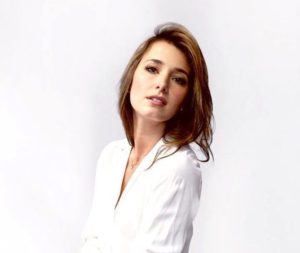 10 acts competed, among those 2015 Eurovision representative Tamar Kaprelian. While five others qualified for the final, she had to face that she is no longer in the run to represent Armenia at the 2018 Eurovision Song Contest.
On Sunday, the 25th of February, Armenia will find it's winner of their national selection Depi Evratesil. The participants will be found via two semi-finals. The first one tonight, and the other one on Thursday.
All competing songs have been available for about a month, and in recent days, also rehearsal videos have been published on Depi Evratesil's YouTube channel. One video stood out in terms of views before the show; Tamar Kaprelian's Poison (Air Ari). She is a well known name also among Eurovision followers, as she represented the country at the 2015 Eurovision Song Contest as part of Genealogy. Tonight however, she was eliminated.
In tonight's semi-final, Armenian TV treated the viewers with a performance from their Junior Eurovision participant Misha. He came 6th at the 2017 Junior Eurovision Song Contest. A compilation video of Artsvik, their 2017 Eurovision Song Contest participant was also shown.
The participants
(Qualifiers for the final in bold)
Gevorg Harutyunyan – Stand Up
Angel – Heartbeat
Lusine Mardanyan – If You Don't Walk Me Home
Zhanna Davtyan – Unbreakable
Mher Armenia – Forever
Nemra – I'm A Liar
Hayk Kasparov – Enamórame
Tamar Kaprelian – Poison (Ari Ari)
Robert Koloyan – Get Away With Us
Gata Band – Shogha
Armenia at the Eurovision Song Contest
11 appearances, 10 finals, and seven times with a result in top 10. Armenia has been quite successful at the Eurovision Song Contest, despite not yet winning.
They joined the contest in 2006, and as they never ended worse than 10th in their first five years, no one can blame Armenia if they thought, they can walk on water. In 2011 however, Emmy failed to reach the final with Boom Boom. In the following year, Armenia didn't take part. The contest was held in Azerbaijan, and Armenia feared for security problems due to the conflict between the two countries.
In 2013, Armenia returned to the contest, but found that their complete top 10 strike had ended as Dorians came 18th. Since then, they have qualified for the final each time, but it has been with every second year in top 10. As Artsvik  also finished 18th, it looks like the country will be in for another top 10 this year, if this patterns continues.