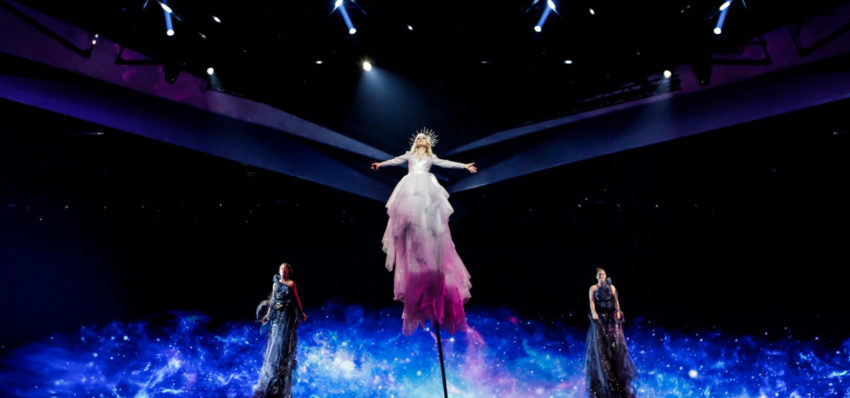 The second day of rehearsals started later today than scheduled, which was good news for us all as the traffic was very heavy. After a long  late flight, todays first song is very appropriate called Wake Up from Belgium.
Belgium: Eliot – Wake Up
Eliot is wearing a black and red costume and is accompanied by two drummers and dancers, in total there are three big drums on the stage. The dancers have red fists on their t-shirts and the whole staging looks very simple. But for the Eurovision, it seems it may not be enough. Eliot explained later that the song is about climate change and that improvements will be made to the performance.
It is clear that this is the first big international competition for Eliot and he looks a little nervous during the rehearsals, although his vocals are perfect. The song writer also wrote Blance's City Lights and is hoping for similar success again.
Georgia – Oto Nemsadze – Sul tsin iare
Well we certainly did wake up with the arrival of the Georgian entry. The vocals at these rehearsals are faultless and very strong. Oto starts off with just a blue stage before a back drop of snow-covered mountains appears. Whilst this song is not considered one of the favourites, the strength of the performance could see it make the final.
He is dressed all in black and has to stop his second rehearsal as the microphone died. The mountains look terrific on stage. After the song dips in volume, his backing choir appear on stage and the mountains go up in flames. It looks very impressive. There seems to be several hiccups with the sound as they are continuing with vocal tests.
Australia: Kate Miller-Heidke Zero Gravity
Australia took a while to get set up and they won't have time during the real semi final so that will need to be sorted out fast. Kate is backed by two females standing probably on stilts and she too is high up in the air. The whole presentation looks as if she is floating on air – zero gravity indeed.
As the performance gets closer to the end, you can see the trio are on the same poles when she won the Australian competition earlier in the year, This is very visual and first time round it appears they are getting these right as Kate is holding back with the vocals.
The second time, the vocals were much better and this whole package is very entertaining. Kate has an extra long white dress on, the backing ladies, long black dresses, all made of lace. Let's hope there are no accidents on stage here.
We are expecting clips from the rehearsals soon. Keep checking back as they will be posted as soon as they are available.
Iceland, Estonia, Portugal, Greece and San Marino will be rehearsing this afternoon.