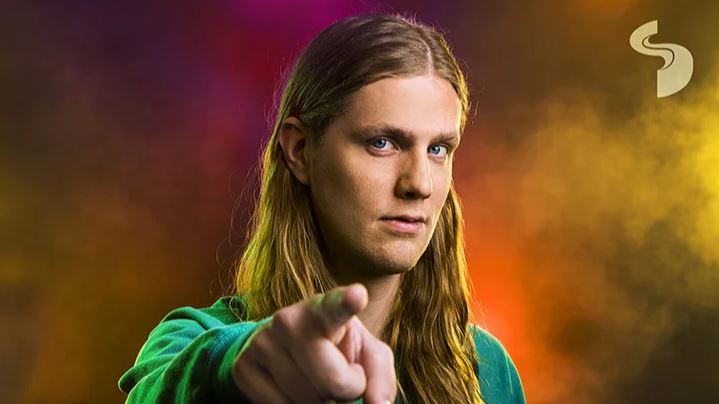 Söngvakeppnin 2020, the Icelandic national final, has been won by Daði & Gagnamagnið. Singing 'Think About Things', the act has therefore got the ticket to represent Iceland in Rotterdam. Will the country manage to have a consecutive top-10 Eurovision placing this May?
Söngvakeppnin 2020
This was the fifteenth edition of Söngvakeppnin. Since 2006, the show has been used as the Eurovision national selection method for the Icelandic public broadcaster Ríkisútvarpið (RÚV).
A total of twelve songs competed over two semi-finals, held on 8th and 15th February. All songs had to be sung in Icelandic at this stage. After a public televote, two songs from each semi-final progressed directly to the final round.
Tonight's final consisted of these four finalists plus an extra, 'wildcard' song from the second semi-final. All songs were performed in the language intended for Rotterdam.
The voting for the Final Round was based on a 50/50 combination of a public televote and jury voting. The two top scorers from this round proceeded to a head-to-head battle in the Superfinal Round.
The winner of the Superfinal Round would go on to represent Iceland in Rotterdam. There was only public televoting in this round.
The jury
An 'international' professional jury for the Final Round was introduced to Söngvakeppnin in 2017. This year, it consisted of eight Eurovision and/or entertainment insiders from six different countries, three of whom were from Iceland itself.
The professional judges were as follows:
Ana M. Bordas 
Spain
Head of International Television Production at the Spanish State Television.
Eirini Giannara 
Greece
Journalist and media representative of the Greek State Television.
Unnsteinn Manuel 
Iceland
Singer
Kleart Duraj 
Albania
Eurovision Project Manager at the Albanian State Television.
Klemens Hannigan 
Iceland
Musician, member of Hatari (Iceland 2019)
Alexandra Rotan 
Norway
Singer in the Norwegian band Keiino (Norway 2019).
Regína Ósk Óskarsdóttir 
Iceland
Singer
Edward by Sillén 
Sweden
Director and screenwriter. Directed the Eurovision Song Contest shows of Malmö 2013 and Stockholm 2016.
The finalist songs
Meet Me Halfway – Ísold & Helga
Despite a walk towards the camera that still feels a bit clumsy, one is first struck by Ísold's delivery of the opening lines of the song, which, though still good, it is a bit forced compared to the Icelandic version of the song sung during the semi-final.
What starts as a sweet, mid-tempo ballad soon builds into a more dynamic pop number sung in beautiful harmonies by the two singers.
The stylistic choice of both singers being in sequins, dark for blonde Helga and white for brunette Ísold, is spot on for two halves that are to meet 'halfway' as the chorus of the song suggests.
On the other hand, despite the addition of pyrotechnics tonight, the stage presentation was not as solid as it could have been.
Nothing really bad about this one though one does wonder whether it would really stand out from another 40 entries at Eurovision.
Think About Things – Daði & Gagnamagnið
This feels somewhat like a déjà vu! Daði & Gagnamagnið also made it to the Icelandic final back in 2017 and very little seems to have changed since, save for lead singer Daði's hair perhaps, which is now even longer. Otherwise, similar – signature? – pale green tracksuits, same pixalated videogame-type characters on the tracksuits and LED backdrop, similar makeshift-looking keytar synthesizers, similar quirky dance routine and overall delivery.
Musically, Think About Things is errr…, yet again, similar to 2017's Is This Love?, though, this time, quirky electropop is combined with a funky baseline and the occasional saxophone phrase.
You can never have too much of a good thing of course and Daði & Gagnamagnið came very close to lifting the Icelandic trophy back in 2017 indeed.
Indeed, the audience sounded really taken with this one tonight, clapping along,cheering every so often and giving it enthusiastic applause in the end.
This is an entry that seemingly does not take itself too seriously though thinking appears to have taken place in terms of the choreography and camera work. It is quite pleasant and memorable actually – not as memorable as Hatari of course, but, then again, few would be…
Oh, and Hollywood star Russel Crowe is a fan apparently!
Echo – Nína Dagbjört
Unlike the rest of the entries tonight, Echo did not manage to make the top-2 in its (second) semi-final and was instead chosen as a wildcard by the show's producers.
Musically, Echo is not too dissimilar from Meet Me Halfway, in the sense that it is a sweet mid-tempo song that subsequently changes into a more dance-type number. Otherwise, it is slightly reminiscent of 2013 Eurovision winner Only Teardrops when drums and the backing vocalists get going.
Nina looked very relaxed and beautiful in her white long dress. Her vocal performance was good, too. The lighting, yellow and golden hues and a backdrop impression of a star-lit night sky, was also fine-tuned tonight and came complete with pyrotechnics as well as sections of a sublit stage with Nina lit from behind.
It would make a polished Eurovision entry and thus its choice as a wildcard is quite understandable. Perhaps a bit more oomph would be welcome though…
Oculis Videre – Iva
There is a strong Dutch connection with singer/songwriter Iva. Her dad is from the Netherlands and, though Iva herself was born in Reykjavik, she grew up in Amsterdam before returning to Iceland at the age of nine. She subsequently moved back to the Netherlands to study classical singing at the Codarts Conservatory in Rotterdam, this year's Eurovision host city.
The title of the song, Oculis Videre, translating from Latin as 'to see with the eyes' is particularly poignant as Iva was born with a genetic eye disorder and is blind.
This is an atmospheric, vocals-based song. From the slow vocal harmonies to Iva's white kaftan, pagan-looking headdress and sceptre, the backing singer's grecian dresses and armography as well as the sublit stage, there is a distinct essence reminiscent of ancient mythology – with Iva in the role of Athena/Minerva or a Nordic near-equivalent goddess perhaps. Dry ice complemented the visual concept.
It went down very well in the hall. Personally, not sure it goes all the way in satisfying its ambitions, though much improved visually and, as a result, more impressive tonight compared to the semi-final round.
Almyrkvi – DIMMA
DIMMA is an Icelandic rock/metal band. With four studio albums in their discography, it sounds as if they are well established.
Once more, the song's intro implies a ballad, albeit a rock one this time. Soon, DIMMA break into a full-blown metal sound, however, that is quite impressive. The downside is that, when we get to the chorus, things go down rather than climax.
The band comes across as experienced on stage and have the right look for their genre. The performance is really improved compared to the semi-final. Pyrotechnics feature more heavily than any other entry tonight. Another presentational addition was the lead singer putting a splash of black paint on his forehead, though – the song being sung in Icelandic, most of the international audience would not quite be sure of what it signified. The lead singer was also careful not to cover his face by holding the microphone too high (as was the case before) and his vocal performance was confident.
The positive side is that it would be quite memorable and polished tonight. Shame about the chorus as I still find that it does not fulfil the song's early promise.
The Final results
The Final round results were as follows:
Final Round
Draw
Artist
Song
Jury
Televote
Total
Place
Result
1
Ísold & Helga
Meet Me Halfway
17,170
5,568
22,738
4
eliminated
2
Daði & Gagnamagnið
Think About Things
24,289
36,035
60,324
1
qualified to the superfinal
3
Nína Dagbjört
Echo
15,286
6,515
21,801
5
eliminated
4
Iva
Oculis Videre
18,426
19,072
37,498
3
eliminated
5
DIMMA
Almyrkvi
14,867
22,848
37,715
2
qualified to the superfinal
The Superfinal
Daði & Gagnamagnið and DIMMA were through to the Superfinal Round and performed their entries Think About Things and Almyrkvi again.
There was a bit of a mishap with Daði & Gagnamagnið, who, due to earpiece issues, had to stop their performance abruptly. The act got the chance to perform again some minutes later with the audience firmly on their side, clapping along and applauding. DiMMA were met with a similar reception, too.
The results of the Superfinal, 'duel' round were as follows:
Superfinal round
Draw
Artist
Song
Final round (carried over)
Superfinal round
Total
Place
1
Daði & Gagnamagnið
Think About Things
60,324
58,319
118,643
WINNER
2
DIMMA
Almyrkvi
37,715
42,468
80,183
runner up
Daði & Gagnamagnið were announced as the winners and, for a fourth time tonight, took to the stage to perform Think About Things, the song that had just become the Icelandic Eurovision entry for 2020.
The show
Söngvakeppnin 2020 was broadcast live from the Laugardalshöll national indoor arena.
Before the main part of the show started, there were backstage links and commentary with 1993 Icelandic entrant Inga making a contribution.
Each entry was introduced by a video where the artists were interviewed at some length. Every so often, there were also informal interviews with the contestants in the green room after they had performed.
Last year's Icelandic representatives, Hatari, featured quite heavily in the show. Not only was band member Klemens Hannigan acting as judge in the professional jury, the group also got to sing their 2019 techno punk rock entry Hatrið Mun Sigra during the interval. For tonight's rendition of the song, they were joined on stage by an artist singing in what sounded like an Arabic dialect. The number itself started with a Palestinian flag shown on the backdrop – a nod to their political affiliations getting them into trouble last year in Tel Aviv perhaps. The performance held a suprise for its finale, too, with the song's melody being delivered by a children's choir, admittedly, not the most intuitive choice for a song like Hatrið Mun Sigra.
Later in the evening, they were followed by KEiiNO, the Norwegian representatives from last year. Their performance did not go on without technical problems either. After a false start, everything was set for them to perform a medley including their yoik-infused dance-pop entry Spirit In The Sky. Despite finishing sixth overall last year, the group had managed to win the public 'televote' in Tel Aviv.
The big surprise of the night must have been a live rendition of their 1990 Icelandic entry Eitt lag enn, by Grétar Örvarsson and Sigríður Beinteinsdóttir, aka Stjórnin. This had been Iceland's only fifth ever Eurovision entry. Having finished at fourth place, it was the first time the country finished in the top-5 and remains one of the best placings for the country to date.
Iceland in The Eurovision Song Contest
2020 will mark Iceland's 33rd participation in the Eurovision Song Contest.
Since its debut in 1986, the highest placing for the island nation were two second places in 1999 with Selma and All Out Of Luck and in 2009 with Yohanna and the entry Is It True?.
Iceland has managed to qualify for the Eurovision Grand Final eight out of the fifteen times it had to compete in the semi-final round so far.
Last year, 'techno, industrial and punk rock band' Hatari caused a stir with their provocative Hatrið Mun Sigra (Hatred Will Prevail). They were placed tenth in the Grand Final, it being the sixth time that the country has managed to get a top-10 placing at Eurovision.
In Rotterdam, Iceland will be competing for a place in the final from the first half of Semi-final 2 on 14th May.
In the following video, you can watch Daði & Gagnamagnið performing Think About Things at tonight's Söngvakeppnin.