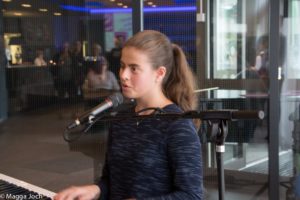 Iceland held their second semi final of the Söngvakeppnin 2020 contest tonight, getting closer to choosing their Eurovision Song Contest entry. Two acts proceeded to the final, and the wildcard was also anniounced
However tonight Daði & Gagnamagnið and Iva made it to the final to be held on 29 February 2020.
Nina won the wild card and will be in the final too.
In the final, several, if not all of the songs, will be performed in English. However tonight, as was the case last week, all the songs had to be performed in Icelandic.
The Songs
Daði & Gagnamagnið – Gagnamagnið
Daði came second to Svala wither song Paper in 2017 so is back to try again. The song is very similar to his last attempt with the same eccentric feel, which should see him into the final, with such few competitors, but you never know.
Hildur Vala – Fellibylur
What is it these days with all these women and their simpering slow monotonous ballads. This is an airy fairy type of song that washes right over your head. Sometimes you wonder if some of these countries actually want to win, or whether they just throw in some songs to make up the numbers and give someone a show case. Absolutely dire.
Iva – Oculis Videre
This one seems to have caught the fans attention prior to the show. Again it's a whiney little song in the style of Sarah Brightman and makes for a nice listen on a quiet winters' night, but is really that remarkable that it's a potential Eurovision winner. Certainly anthemic when it builds and if you like light opera, here's your song.
Nína – Ekkó
The third solo female singer in a row and while this has a little bit more of a beat than her competitors, this is not a strong as say Unbroken, Paper and I Hear Them Calling so if this is chosen it will find it hard to make the finals – and it certainly is no Is It True. While being a little harsh this is a nice three minutes, but when it finishes, who even remembers the melody.
Matti Matt – Dreyma
Last on tonight is our dear friend Matti from Sjorni's Friends, the Icelandic entry from 2011. This is a slow building typical Nordic anthem, which may be better in the English version. This has a gentle tuneful little melody, which just may scrape into the final, but will need more listens if it really has toe make an impression.
This week's winners will join DIMMA and Ísold & Helga, the two winning acts from last week. You can watch Ísold & Helga's performance from last week, below.