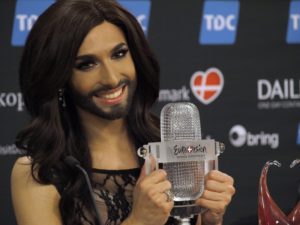 2014 Austrian Eurovision winner Conchita Wurst is back on Danish sole in less than a few weeks. She will be guest act at this year's Danish final held in Aalborg, North Jutland. The former winner has sweet memories of Denmark as it was in Copenhagen she won. 
On the 10th of February, Conchita will return to Denmark as she will perform at this year's Danish Melodi Grand Prix final. With the song Rise Like A Phoenix, she won the 2014 contest held in the country's capital, Copenhagen. As also the Eastern European countries voted for it, it was a song that in many ways showed the diversity of the contest, and the openness of Europe.
Conchita, as she just calls herself now, was also guest act at last night's Spanish Operación Triunfo final.
It's a big pleasure to welcome Conchita back to Denmark. She is an icon in the Eurovision history, and in many ways a representative of everything Melodi Grand Prix and Eurovision is. A message about community, music and diversity in Europe. I look forward to the reaction she will get from the Danish fans in Gigantium (the arena, edt.)

DR's Head of Entertainment, and member of EBU's Reference Group, Jan Lagermand Lundme in a press release on the 30th of January 2014.
In the video below, refresh your memory of Concita's Eurovision victory from 2014 with the song Rise Like A Phoenix.