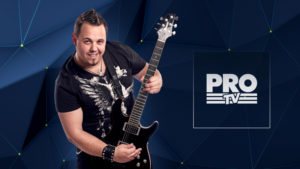 In an open letter from Romanian Pro TV to EBU they ask for Romania and Ovidiu to still take part in this year's Eurovision Song Contest. They are hoping that the European Broadcasting Union will be able to accept them as this year's Romanian broadcaster.
The Romanian commercial TV station Pro TV have sent an open letter to the EBU asking them to allow Ovidui Anton to take part in the Eurovision Song Contest representing Romania, but with them as broadcaster. After an introduction of who they are, they argue why they believe it is important to keep Romania and the song Moment of Silence in the contest. See the explanation in the quotes below.
We believe that the exclusion of Romania from the Eurovision Song Contest affects first and foremost the people of Romania and the artist Ovidiu Anton, whom they followed on his journey throughout the contest. Romania has a strong emotional relationship with this contest that goes back to the time after the revolution, as the participation in the contest was always perceived as being part of a broader European community.
The viewers in Romania elected Ovidiu Anton to be the nation's representative for Stockholm and his performance represents what they desire to see. The song "Moment of Silence" addresses the importance of a fair and unbiased political system, a subject that is very present for Romanians in the fight against corruption. Being withheld from performing in Stockholm due to reasons which do not relate to him and Romania's participation overall, it would be a major disappointment for Ovidiu and his Romanian supporters after all the efforts that were invested to get to this point.
In the light of the foregoing, by broadcasting this event Pro TV is prepared to enable Romania and Ovidiu to be part of the European song contest. We would like to invite you to explore with us a fast and pragmatic solution in order to support Ovidiu in his participation in Stockholm and keeping the Eurovision song contest with the people of Romania.
In this regard, we would highly appreciate your willingness to enter the cooperation with us. Ovidiu and myself, will be available any time for further discussions despite the tight timeline remaining till the event and hope to find together with you a realistic way of keeping Ovidiu in the contest.
We both hope, we will soon be able to send positive news on this subject to the citizens of Romania.

Yours faithfully,

Aleksandras Cesnavicius,
CEO PRO TV SRL
Ovidiu Anton himself is grateful for the chance that Pro TV offered him, and after having tried so many times to make it to Eurovision, and then to be kicked out when he finally won the national selection, he naturally wants to go to Stockholm and show what he can do.
In the last 6 years I have constantly participated at Eurovision National selection, wishing to win and go further in the international final, so I'm more ready than ever to be on the stage of this song contest. I've worked hard all these years, especially in the last period, preparing a good show for Stockholm. I want to thank all Romanians for the trust given by their votes; I wish to have the opportunity to show them they were right. I thank also to the thousands of people that showed their support in the last days, by messages and online petitions. And, not least, I want to thank PRO TV for this generous opportunity.
The regular Romanian broadcaster TVR was excluded from all EBU member services as they have accumulated a big debt to the European Broadcasting Union which they weren't willing or able to pay despite several warnings. As such they aren't able to take part in this year's Eurovision Song Contest. Unfortunately Pro TV which offered to take over as broadcaster this year aren't member of EBU and as such basically this is not possible, no matter how much they and Ovidiu might want this. On EBU's list of members we only find TVR and Societatea Româna de Radiodifuziune being from Romania, no Pro TV. If they thereby haven't paid to EBU's services either, they of course can't take part.
Below you can see Ovidiu Anton perform his Moment of Silence which was set to be the Romanian entry for the 2016 Eurovision Song Contest. This performance is from Eurovision In Concert in Amsterdam, the Netherlands on the 9th of April, before TVR was excluded.