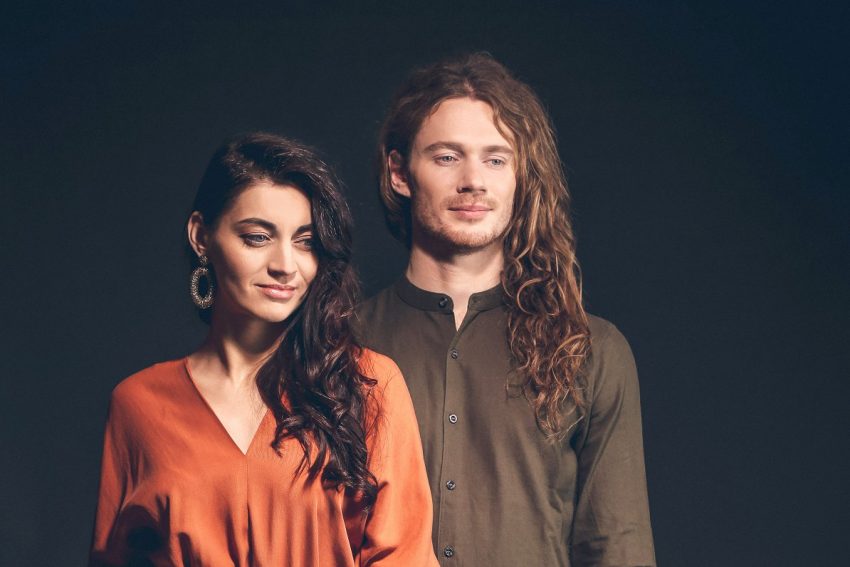 It was Latvia's turn to pick their Eurovision entry tonight. Despite all the negative feedback when the songs were first released, the Supernova 2019 was an excellent show, where Carousel was declared the winner.
Eight songs competed in the final tonight and thanks to jury, public, Spotify and Internet voting, Carousel will take the song That Night to Tel Aviv, and the second half of the second semi final on May 16.
The Hosts
Our two semi final hostesses, Dagmara Legante and Ketija Senberga returned for one final time. Both chose to wear black dresses tonight.
The Jury
The four member jury was made up of lead jury member DJ Rudd from Latvian Radio 5, along with singers Linda Leen and Ralf Eiland, from the group PeR and radio producer Artis Dvarionas.
The Songs
Markus Riva – You Make Me So Crazy
Starting tonights show was perennial Latvian favourite, Markus with his new song You Make Me So Crazy. Markus is so likeable you just will for him to get the chance to represent his country at Eurovision. This is a future club classic, with Markus performing with his two backing female singers.  Markus was looking cool all in black tonight. Whether this is Markus's best or tonight's best won't matter if Markus wins. A great opening for a show like this, so all the best to him.
Edgars Kreilis – Cherry Absinthe
In a dreadful draw, the two alpha males of the show, perform back to back. Edgaras has polished his cherry to the point that it's ripe and shiny and ready to head to Israel. This has clearly been rehearsed to breaking point, with the four female backing singers all part of the integral team. Excellent.
Aivo Oskis – Somebody's Got My Lover
Continuing with a further bad draw, the last solo male of the night comes third. This is a peach of a tune, which is slightly better as a recorded version than as a live piece. However Aivo holds his own against his predecessors and this too would make a great entry for Latvia. Aivo was dressed in yellow tonight, backed by five farmer hands dressed in all colours of dungarees and jeans.
Double Faced Eels – Fire
Marka, Reinis, Victors and Ronis make up the Double Faced Eels,Latvia's answer to Maroon 5 and are putting on a grand show too. The old Sasha Song trick returns with the fire burning in the lead singer, Marka's hand. This is a modern piece of pop music, that probably has a more long term appeal, but as an immediate voting entry may not be quite enough. Very good effort though.
Dziļi Violets feat. Kozmens – Tautasdziesma
This song starts a capella before a searing electric guitar breaks the silence. Five characters all lined up on stage Kozmens, presumably wearing the kilt breaks into a rap in French while his four hench men, Nauris Brikmanis, Valters Osis ,Viesturs Butāns and Edgars Jercums get ready for action. It then burst into a Beatles type piano break and settles into quite a good pop song.  A hand clapping finale brings the song to a rousing finale.Very original and certainly in with a chance too
Laime Pilnīga – Awe
Lead singer Ervīns Ramiņš starts alone accompanied by solo guitarist, Mārcis Vasiļevskis. The drummer, Elvijs Mamedovs starts and so begins a very melodic song. There are four men in this group, completed by bassist Janis Olekss who most probably can be compared to Coldplay. Ervīns has a very powerful voice and it all blends very well together. Latvia definitely have put eight worthy songs into their final.
Samanta Tīna – Cutting the Wire
This year Samanta has decided she's taking no crap from the men and is determined to win, The performance has also been polished to perfection. Samanta is singing with a lot of power and this is great staging. Her five partners in crime really add to the whole package. However Samanta needs to learn to pronounce the word The, as she is cutting DA wire. Don't be surprised if this wins.
Carousel – That Night
To close tonight was the winner of the second semi final, so if this is still the favourite from that heat, then its goodbye to the Double Face Eels, Dziļi Violets feat. Kozmens and Markus. This is a very laid back song, so laid back it almost falls over. If this gets to Eurovision it may stand out, due to its simplicity. The duo are accompanied by a double bass, and drum, while the guitarist Marcis Vasilevskis compliments the lead female Sabine Zuga's smoky vocals. Great for an acoustic set In Nashville or a bar and the smaller Latvian studio, but can it translate to a Eurovision stage.
Latvia In The Eurovision Song Contest
This will be Latvia's 20th appearance at The Eurovision Song Contest and congratulations to them.
Brainstorm started the obsession with My Star placing third in 2000. A disappointing 18th place by Arnis Mednis with Too Much, saw Latvia relegated in 2002. Thanks to Portugal withdrawing, an opening came up for Latvia to enter and by jings did Marie N not just go and win the whole thing with I Wanna.
Held at home, F.LY. only placed 24th with Hello From Mars sending Fomins and Kleins and Dziesma par laimi to the semis where they failed to qualify. Walters and Kazha redeemed the country in 2005 with The War Is Not Over reaching 5th place. Sadly Walters (Valters Frīdenbergs) passed away on October 17, last year, aged only 30. Mārtiņš Freimanis form F.L.Y has also left us, having died  at the age of 33 on 27 January 2011.
Cosmos and Bonaparti.lv both finished 16th in the following two years, while Pirates Of The Sea, Wolves of The Sea finished 12th in 2008.
There then followed the non qualifying years when Intaras Busulis, Aisha, Musiqq, Anmary. PeR and that Cake To Bake failed to impress enough people.
The Aminata years followed when Love Injected finished in 6th place in 2015 and Justs Hearbeat finished 15th in 2016.
Unfortunately in the last two years, Triana Park's Line and Laura Rizzottos's Funny Girl remained in the semi finals