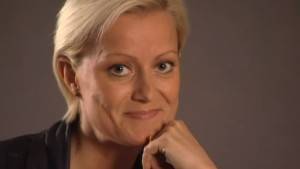 Carina Jaarnek, two times participant of Melodifestivalen, passed away at a hospital in Stockholm during the evening on Saturday the 16th of January due to cerebral haemorrhage.
Carina became 53 years old.
Carina, "Kina", Jaarnek was born in 1962. She was a well established singer in Sweden, mainly known as a dansband and soul singer. In 1989 she started her own band "Carina Jaarneks orkester". In 1995 Carina came third in the Sopot International Song Festival with the song I want you back my love, the original Swedish title was Då vaknar kärleken.
She took part twice in Melodifestivalen, the swedish national selection for the Eurovision Song Contest. In 1994 she performed the song Det är aldrig försent together with her younger brother Mikael Jaarnek. In 2002 she came 4th in the Semifinal with Son of a Liar and proceeded to the Second chance heat where she was eliminated while Jan Johansen and Barbados went through to the final.
In 2005 she recorded a tribute album to Elvis Presley together with his own musicians.
Carina is older sister to Towe Jaarnek who also took part twice in Melodifestivalen.
Below you can see videos of the songs Son of a Liar and Det är aldrig försent.