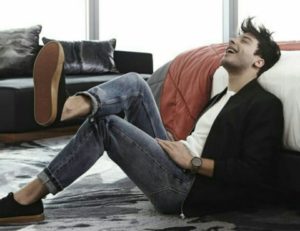 The Spanish broadcaster, RTVE has just announced that Blas Cantó will represent Spain at the Eurovision Song Contest in Rotterdam in May.
For the past few weeks Spain has been hinting that they will choose a famous singer as their representative this year, leading to rumours that Ruth Lorenzo may be making a return.
However they have instead chosen ex boy band singer Blas Cantó as their representative. The 27 year old singer used to to be a member of the group AURYN.
AURYN were formed in 2009 and are currently on hiatus. The group tried to represent Spain in 2011 with the song, Volver, but were ultimately beaten by Lucia Perez.
Blas has been a fan of Eurovision since he was a child and has always dreamt of representing his country.
Spain At The Eurovision Song Contest
It has now been 50 years since Spain won the Eurovision Song Contest and even then it had to share the win with three other countries. The only time Spain won outright was in 1968 when Massiel took the prize with La La La.
Last year Mike and La Venda continued Spain's poor run of results by finishing in 22nd place with 54 points.
Below enjoy a video of Blas's latest song Si Te Vas, while Spain work with him to find a suitable song to send to The Netherlands.