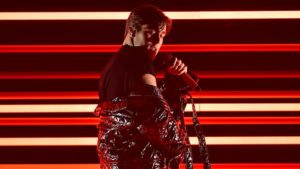 Tonight in Sweden, the Melodifestivalen 2018 was held at the Friends Arena in Stockholm, to find Sweden's 2018 Eurovision representative.
Twelve acts competed tonight including eight who went directly to the final from four previous heats. The four winners of last weeks Andra Chansen duels, were also back to sing again.
In the end Benjamin Ingrosso and Dance You Off will head to Lisbon, Portugal in May for Sweden.
The Hosts
As with the Andra Chansen and the four heats, David Lindgren hosted the show. His side-kick, the unnecessary Fab Freddie had enough to say while mingling with the audience and green room. David started the show with a dance number, One Together.
During the first voting period Solala and Helen sang Var Basta Tid Ar Nu. David did some cabaret after the international juries had voted. Caroline Af Ugglas replaced Robin and sang I Cant Go On, just before the Swedish publics votes.
The Songs
Méndez – Everyday
This Spanish influenced song is a perfect opening number. Méndez and his dancers fill the stage with this dance song. Unseen backing singers accompany him the background.Once again Sweden breaks the rules and would need to change the staging if this song wins.
Renaida – All the Feels
Hot from the Andra Chasen, Renaida is back singing for her Eurovision life. This soulful dance song is yet again helped by unseen pre-recorded backing vocalists. Plenty attitude accompanied by five backing dancers – again change would need to be made for Eurovision. She had problems with her ear piece and got to perform at the end, for a second time.
Martin Almgren – A Bitter Lullaby
Slightly under the radar, this is a song for country radio. The chorus doesn't quite flow from the verses, but the nanana and female backing vocalist gives the song an anthemic feel.
John Lundvik – My Turn
Sitting accompanying himself by the piano, at the beginning, this is a simple melodic soul ballad. As the song lifts a choir joins in and you start to wonder if Sweden has not been told the staging rules, unlikely since they've won so many times. Therefore how this will be staged in Lisbon is the question, as it has a good chance of winning.
Jessica Andersson – Party Voice
This is a faster song that you would probably expect from Jessica. There is a touch of Girls Aloud about this song, as Jessica too has backing singers, but prefers to have dancers on stage. This could go either way.
LIAMOO – Last Breath
Another song with an anthemic feel. The only song tonight to feature rapping. However, the rap is not hardcore and is a little more palatable. This is a very modern number, and another that must stand a good chance of winning.
Samir & Viktor – Shuffla
Back for a third attempt, and some fans think this is their year. The song is exactly the same as their previous two attempts. All buddy buddy and fine for Melodifestivalen, but should be shuffled of the stage in Lisbon.
Mariette – For You
This isn't as good as Mariette's past entries either. It's a catchy enough pop song, but Mariette looks as if she's just rushed in from her housecleaning to perform the song, and then just leave again before the washing machines run its cycle. It would still be nice to have Mariette represent Sweden, but this isn't the year.
Felix Sandman – Every Single Day
The problem with this performance is that it's not an instantly likable song, and the staging isn't the best. However, after a couple of listens, this is a pretty good ballad. With a little more power this could keep Sweden's good track record.
Margaret – In My Cabana
This is a fun enough type of song, with Cuban influences from the Polish singer. This is a catchy enough song, and Donny Montell,s backing dancer helps her along. Fine for a party, will probably just miss out here.
Benjamin Ingrosso – Dance You Off
Certainly, a song Michael Jackson and Justin Bieber would pass on, but this has a certain appeal to folks who like both these singers. This is a mellow light dance number, but the staging here isn't as good as Benjamin probably thinks it is, Still this has to be in with a chance of winning.
Rolandz – Fuldans
When you watch a show and it gets towards the end, if you haven't found a winner, you hope the last song will save the day. Well too bad if you were hoping for this one. Sweden has lost its mind if it sends this. There is novelty and there is awful. This is both.
The Results
| | | | | |
| --- | --- | --- | --- | --- |
| | Jury | Public | Total | Place |
| Méndez | 2 |  62 |  64 | 12 |
| Renaida | 30 | 51 |  81 |  9 |
| Martin Almgren | 43 |  41 | 84 |  8 |
| John Lundvik | 66 |  62 | 128 |  3 |
| Jessica Andersson | 33 |  37 | 70 |  11 |
| LIAMOO | 52 | 53 |  105 |  6 |
| Samir & Viktor | 54 |  60 |  114 |  4 |
| Mariette | 64 |  49 | 113 |  5 |
| Felix Sandman | 94 |  64 | 158 |  2 |
| Margaret | 62 |  41 | 103 |  7 |
| Benjamin Ingrosso | 114 |  67 |  181 |  1 |
| Rolandz | 24 |  51 |  75 |  10 |
Poll
Did Sweden pick the right song? Tell us who was your favourite in the poll below:
Sweden In The Eurovision Song Contest
This will be Sweden's 58th appearance at Eurovision.
Everyone surely knows that Sweden has won the contest six times. The winning acts – Abba, Herreys, Carola, Charlotte Nilsson, Loreen and Måns Zelmerlöw.
As well as winning, Sweden has placed in the top 5 on eighteen other occasions, making it one of the most successful countries in Eurovision. They have done particularly well in recent years.
Sweden has only finished last on two occasions, in 1960 with Monica Zetterlund and again in 1977 with Forbes and their tribute to the Beatles.
Enjoy this years entry below