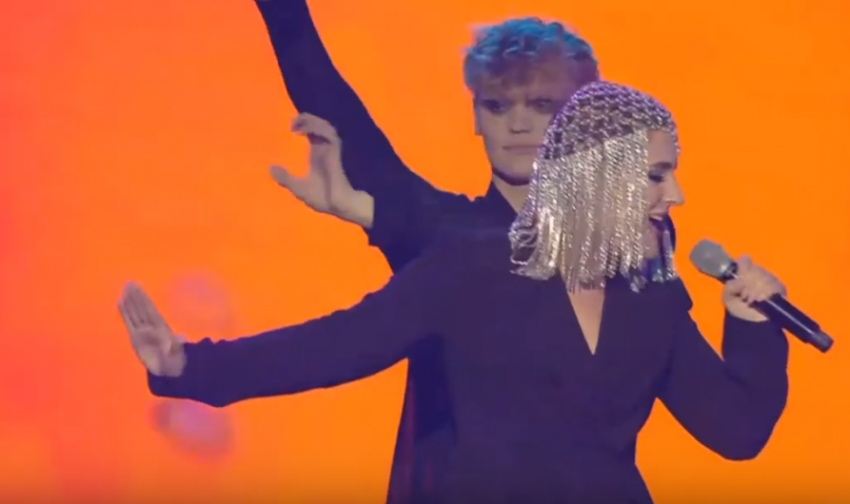 Tonight it was Belarus's turn to pick their entry for the Eurovision Song Contest 2020. In the end, the group VAL was chosen as the winner from twelve competing entries.
Twelve artists sang their hearts out in Minsk, Belarus with the winner earning the right to represent their country at this year's Eurovision Song Contest, to be held in Rotterdam, The Netherlands.
The show was held at the 600 Metrov studio in the capital, Minsk. The hosts were Evgeny Perlin and Helena Meraai, who already hosted Junior Eurovision 2018 when it was held in the Belarusian capital.
The running order for the songs was:
NAPOLI – Don't LeMe Down
Sasha Zaharik – Rocky Road
Anastasiya Malashkevich – Invisible
CHАKRАS – La-ley-la
Nastya Glamozda – Burning Again
Nastasea – Hello
Yan Yarosh – Fire
Angelika Pushnоva – True Love
Darya Khmelnitskaya – On Fire
АURА – Barani svajo
KeySi – Chili Pepper
VАL – Da Vidna
The winner was chosen with a 50/50 combination of professional jury and public telephone vote. Prior to the contest. it was decided that if there was a draw, the winner would be whoever the jury liked the best. Among the jurors, we could see for example Dmitry Koldun (Belarus 2007), ZENA (Belarus 2019), Alex Panayi (Cyprus 1995 & 2000), Tali Eshkoli (Israeli Head of Event at Eurovision 2019) or William Lee Adams (Wiwibloggs). The public televoting lasted only for a 10-minute window.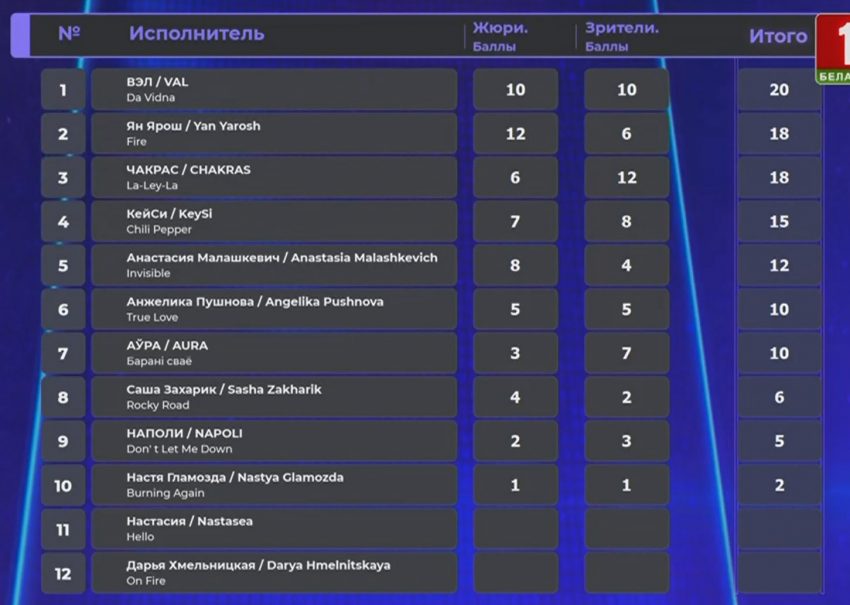 Above you can see the full results of Belarus national final. The winner is group VAL with a song in Belarusian language Da Vidna. Yan Yarosh took second place, followed by fan favorites CHAKRAS.
Belarus At The Eurovision Song Contest
This will be Belarus's 17th attempt at the Eurovision Song Contest and they really need to get a grip. They have only ended up in the top 10 on one occasion when in 2007 Dimitry Koldun placed 6th with the song Work That Magic.
On ten occasions the country has failed to qualify to the final starting with their debut entry My Galileo from Aleksandra and Konstantin. The last time they failed to qualify was in 2018 when Alekseev missed the final with his entry Forever.
Last year, a slight improvement took place when Zena took Like It to the final, but ultimately ended up in 24th place. Let's hope their luck changes this year.