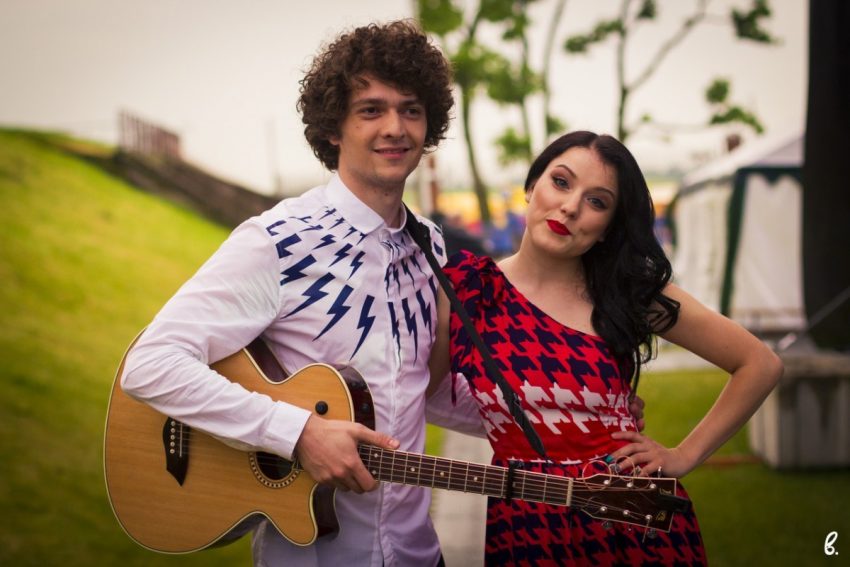 Belarus has chosen NAVI to represent them at the 2017 Eurovision Song Contest. In the expanded national final, 13 acts were competing for this honour.

Belarus stayed faithful to their national final for Eurovision and in 2017 made only minor changes. Compared to last year, we saw an increase in the number of participants. This year, Belarus received a total of 67 entries and during live auditions, a jury panel chose these 13 finalists.
The songs
July – Children of the World
July brings a current uptempo song, which is a good song to start the show with. Unfortunately in the refrain the lyrics are not very original. The staging is simple in black & white with a video projection in the background. In the end, it changes to many colours, a peace sign and flowers. July's vocals are not very powerful, but still her song is a bit catchy. July is accompanied by two male dancers / drummers and three backing vocalists.
Aleksandra Tkach – Be Stronger
Aleksandra Tkach and her ballad Be Stronger is as  different from July as it can be. The tempo, mood and also the singing is very different. The slow ballad is sung with a power, and it stands out after the faster song from July. Staging is simple and there is a saxophone player in the background animation. There are three male vocalists with Aleksandra.
Vladislav Kurasov – Follow the Play
Vladislav is not a newbie in the Eurovision national finals. He participated in 2016 in the Ukrainian national pre-selection. He was eliminated in the semifinals. This year he made it to the final in his homeland. His song is a ballad that uses the high voice range of Vladislav. It is mostly in the refrain where he uses a falsetto voice. He has four backing vocalists who are also dancers.
NAVI – Historyja majho žyccia
NAVI are one of the favourites to win the show. They participated in the  Belarusian national final for the first time last year when they ended 4th. This is their second attempt and they compete with a fast and catchy folk song full of national elements. Their voices work very well together. Their performance and staging is very colourful, with Belarusian national elements.  The audience seem to like their performance.
Isaac Nightingale – On the Red Line
After traditional music, Isaac brought something modern to the competition. A pop mid-tempo song, the staging has red and black colours, while Isaac is in  black and white. It is definitely differenct from NAVI's colourful performance.
Kattie – Wild Wind
Wild Wind is Kattie's second attempt in Eurofest. Last year she tried it with her song Rainbows. She failed to make the competition, but we could still see her in the final, as she was invited as a special guest. This time Kattie competes as a regular artist and she wears a silver dress with a black headband. Unfortunately, in the refrain, when there were some high notes, Kattie was a little bit out of tune.
Nuteki – Take My Heart
Nuteki are veterans of  the Belarusian national final as they have already participated three times. This year they have a modern song that is similar to popular pop-rock songs from the United Kingdom. They made some changes before the national final. On the stage they had a big cage and the lead singer of Nuteki walked around on the stage with a few dancers.
NAPOLI – Let's Come Together
NAPOLI used to be a group, but since November 2015 it is a solo Olga Shimanskaya project. In the past, NAPOLI took part in Eurofest three times, just as Nuteki. 2016 marks her fourth attempt. Let's Come Together is an uptempo song, rather like Emmelie de Forest's Rainmaker. The staging and dress are very colourful. NAPOLI's performance was vocally on a very high level.
Nikita Hodas – Voices in My Head
Nikita belongs to the new generation of Belarusian artists. He is casually dressed and the staging is very simple. He is accompanied by three backing vocalists and he sings with a different style. Some parts are only spoken and it resembles rap a little bit and in the refrain the song is very soft, silent and sung as a falsetto. Altogether, it worked very well.
Angelica Pushnova – We Should Be Together
Angelica has a mid-tempo song about a couple that should not break apart. She is dressed in black and in the background there are some foreign national symbols. The colours are like the French tricolore and the Eiffel Tower and UK's Union Jack. At the end of the song, Angelica uses the famous windmachine to blow her hair.
Anastasiya Sheverenko – We'll Be Together
Angelica told us that we should be together, but Anastsiya is more certain and she knows that they'll be together. Compared to Angelica, Anastasiya's song is slower. It is a ballad with a key change in the end. In the background we can see bubbles and lightbulbs. On the stage there are also some backing vocalists.
Lermont x Julic – Heartbeat
This is for sure a different Heartbeat than the one we saw in Stockholm by Justs. This song is very average with nothing that stands out. One of the guys starts the song standing at the keyboard but slowly moves to the front to join his friend to end the song. They were alone on the stage.
PROvokatsiya – #mylove
Duo PROvokatsiya makes its debut in Belarusian national final with this mid-tempo song. Just like the previous song, they are alone on the stage, but #mylove is more in the Eurovision style. The main colour of their performance is white.
The Show
Every artist had a special postcard just like at Eurovision. This year, the artists had Belarussian symbols from special fluorescent paints on their faces. After a few performances there is a break with a co-host in the green room interviewing the artists who just came from the stage. The hosts were the same as last year, Olga Ryzhikova and Teo (Belarussian representative from 2014). Obviously the chemistry between them worked so they were given the opportunity to host another edition of Eurofest.
After all the artists performed their potential Eurovision entries, the hosts opened the voting period for 10 minutes only. After the voting was over, Teo did a few magic tricks and the show continued with the announcement of the results of the televoting. Then there was a special guest performance from one of the unsuccessful participants who didn't pass the audiences this year – Vitaliy Voronko with his song What's Your Name. Another guest was Belarusian singer Alen Hit who sung his latest song Let's Make a Party. Shir was the next guest on the waiting list. He performed his song Story of My Heart. TVR invited a lot of special guests for their national final. Next one was Tasha Milkova with her song in Belarusian (?Russian?). Then it was time for two of the past Belarusian Eurovision representatives. Uzari sung his 2015 entry Time and Ivan his new song Diamond. After Uzari and before Ivan, Teo presented his brand new happy song Say Me Hello.
After that the votes of the professional jury were added to the televoting and the winner was announced.
The Result
The results were made up from the votes of a professional jury (50 %) and televoting (50 %).
Televoting
Jury
Total
Place
July
8
1
9
7
Aleksandra Tkach
2
5
7
9
Vladislav Kurasov
0
4
4
11
NAVI
6
12
18
Win

ner

Isaac Nightingale
0
8
8
8
Kattie
1
0
1
12
Nuteki
5
10
15
2
NAPOLI
10
2
12
4
Nikita Hodas
3
7
10
6
Angelica Pushnova
4
3
7
9
Anastasiya Sheverenko
7
6
13
3
Lermont x Julic
0
0
0
13
PROvokatsiya
12
0
12
4
In the end NAVI was declared the winner, but as you can see, the jury and tele-voting were very different.
You can watch the live performance of the winners in the video below.
Belarus at the Eurovision Song Contest
Belarus was unsuccessful in the last two years in Eurovision. In 2016, Ivan with his song Help You Fly was 12th as was Uzari and Maimuna in 2015. Out of 13 Belarusian participators, only 4 songs made it to the final, so it seems it is very difficult for a Belarusian artist to do well at Eurovision. In the video below you can check Ivan's performance from Stockholm.