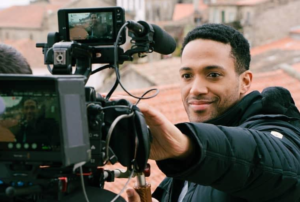 Cesár Sampson officially steps out of the Eurovision backing singer role as of today when his entry for the 2018 contest was released. He will represent Austria with the "Nobody But You" – and it is now up to you to start judging whether not this entry can bring us back to Vienna next year, or maybe Linz as that is where Cesár is born.
Back in December, Austrian broadcaster ORF, announced that they had internally selected 34 year old Cesár Sampson to represent them at the 2018 Eurovision Song Contest. This came after two years in a row with a national final in Austria.
Cesár is a singer, songwriter and a model – so we can probably count on that he knows how to appear in front of the camera. And, he knows what Eurovision is all about as he has been backing singer twice for Bulgaria. First time in 2016 for Poli Genova, and second time the year after backing Kristian Kostov up.
Now, it is him the spotlight will be on, it is his name which will be mentioned by commentators all over the world. His entry, Nobody But You, written by Boris Milanov and Sebastian Arman, was released today. The songwriters have previously been involved with entries from Bulgaria, FYR Macedonia and Serbia.
Listen to Nobody But You in the video below:
Mixed Austrian results in recent years
When Austria, after a two years absence, came back to the Eurovision Song Contest in 2011, it was to quite mixed results – just as in the years before their break.
Nadine Beiler brought Austria back to the contest, and to the final, with the song The Secret Is Love. She finished 18th in the final, and that might have tempted the Austrian's to try to be a bit more alternative the following year. Trackshittaz was fun, but not what Europe wanted, and with a result at the button of the scoreboard in the semi-final, they weren't even near qualifying for the final.
As the country also missed out on the final in 2013, the victory in 2014 came at a good time. With Rise Like A Phoenix, Conchita Wurst won the contest in Copenhagen, Denmark after also winning her semi-final. This came despite many being worried that in particular the Eastern European countries wouldn't vote for a man dressed as a woman – with beard.
But Conchita won, and Austria could host the 2015 contest. The Makemakes represented them on homefield – and forget everything about the host country always getting a few extra points. Austria didn't. With zero points – The Makemakes became the worst performing host country act.
In the past two years, Austria have reached the final on both occasions, and finished in the middle of the field. Last year, Nathan Trent finished 16th in the final with Running On Air. Refresh your memory of that one in the video below: