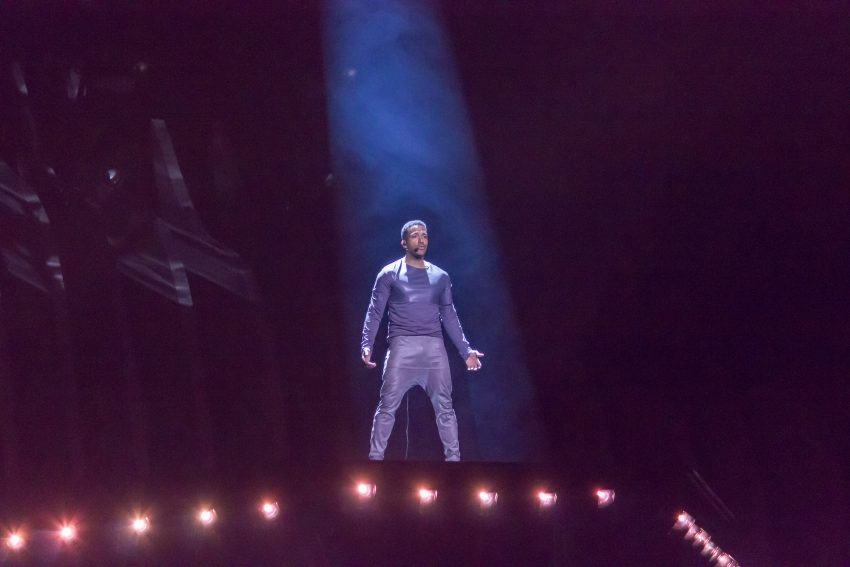 Very competent vocally but nothing to add apart from that. Cesár stands at a big platform that elevates him throughout the majority of the performance. Special effects or any sort of choreography were left behind.
Gallery
Second rehearsal
Opinions expressed during our second rehearsal coverage are personal from the mentioned writers.
Josef, Czech Republic (in the press center) – If Franka is a nominee for the Eurovision's Next Female Top Model, Cesár is the one for a Male edition of that competition. The song brings a gospel touch to Eurovision, but there are no backing vocalists on the stage, at least they are not on the TV screen. Austria decided to use the central platform to put Cesár higher, but I am not sure if it will move him higher on the scoreboard. If Austria should qualify, it will be a borderline qualifier.
Pedro, Portugal (in the arena) – Even though it is quite a simplistic performance (aside from the gigantic platform), Cesár went through a few technical issues having to interrupt his song twice. I am still not a fan of the outfit but, at least, he is holding a real microphone which makes way more sense as he doesn't execute choreography at all. On the arena, one can see a live choir that so should be included in the main performance showed on TV and I believe it isn't. I am still a bit let down by Austria even though it does convince you better live.
Complete the sentence
First rehearsal
On a huge platform, that's where Cesár Sampson stays for almost his entire performance. Before the song's bridge, the Austrian singer dressed in a rather casual way featuring a latex t-shirt, gets off that big lift and runs through the stage's bow to just finish his performance back where he started.
Besides the platform that elevates the singer through Nobody But You, Cesár's performance features no special effects but a lot of smoke and an image of himself on the back.
Overall, it was a very simplistic performance with no choreography despite him using a face microphone. With this being said, it's not shocking that his vocals were impeccable as the performance featured very little moves.
How Cesár Sampson was selected
For the second year in a row, Austrian broadcaster ORF internally selected their Eurovision Song Contest participant. Cesár Sampson was presented back in December 2017 together with Boris Milanov and Sebastian Arman as the songwriters.
In March 2018, the song Nobody But You was released.
Austria at the Eurovision Song Contest
The Eurovision Song Contest started in 1956, and in it's second year, Austria joined the fun. Over the years their results have been quite mixed.
Two victories, in 1966 and again in 2014, but also eight times finishing last, that's the overall stats for Austria's Eurovision journey. As the semi-finals were introduced in 2004, the country failed to reach the final four times. The last time that happened dates back to 2013 where Natália Kelly didn't Shine as much as the song title indicated. Her poor result was however quickly forfotten as she was followed by Conchita Wurst who secured the country their second win.
in 2015, The Makemakes represented Austria on home-field, and unfortunately scored the worst ever for a host country. Together with neighbouring Germany, they failed to get one single point.