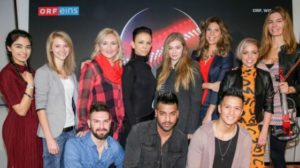 Oh Osterreich, what a strange history they have with Eurovision. All these years ago, Udo Jurgens tried three times before he won the contest and took the show to Vienna in 1967. Then it took 48 years before they won again. Well the fans don't want to wait another 48 years to head back to Vienna, so let's hope something on this year's menu could see an early return to that magnificent capital city.
ORF seemed to be warming to Eurovision again in recent years, after many years of on and off withdrawing, failing to reach the final or simply losing interest. Can we keep Austria in the competition again, so that maybe, just maybe they can win again. Well let's see what they are offering this year, and maybe the U-Bahn subways of Vienna will be bustling with fans, like it was in 2015.
The Wer signt for Osterreich? show to find Austria's entry for the 2016 Eurovision Song Contest will be held on 12th of February. Enjoy the songs at ORF's official site and get ready to pick a favourite.
AzRaH: The One
This was the song that won the wild card and it must have won by getting into everyones eardrums cause its really totally unremarkable. Trying to find a tune in it, is quite the ordeal. Germany sent two wildcards the last two years and well to be blunt, we know what happened to them. Will Austria make the same mistake?
Bella Wagner: Weapons Down
This is a happy piece of fluff.. NOT. The song is slow piece with minimalistic music and while certainly a valid message, Bella is too understated to show any passion or feeling. Over and out.
Céline Roscheck & Farina Miss: Sky Is The Limit
A violin introduction before the synthesizer comes in. The first song with an actual chorus, but its hardly a belter. A thin vocal with the title sung over and over, you'll certainly remember that. Alas that's all that's memorable.
Elly: I'll Be Around (Bounce)
Oh dear I hate to say it but now I've had enough, this is another song which seems to be going out of its way to be as big a downer as possible, but then it peps up for a minute before settling back down. Not a car sing along I fear and certainly no bounce.
Lia: Runaway
Another anguished piece, its the track on an album that you skip. Against the previous four, it's the song with most structure and might become a grower but at the moment it's a bit non descript. It kinds of finds its way towards the end.
Lizza: Psycho
A bit of a musical box intro leads into a flimsy piece of stuff. The music box comes back after the first verse and it's the best thing about it. A little bit of life in the chorus, but I don't get the feeling that its about a Pyscho. Again the ending gives it a bit of a lift.
Orry Jackson: Pieces In A Puzzle
OK, ORF must have it in the rules, that to qualify the song must have as little tempo as possible. This fills all the criteria until a little bit of drum comes in with the chorus and then it gets mildly interesting.
Sankil Jones: One More Sound
It's different, a little bit. Once again there is hardly a tune to be found and its quite indescribable, yet it's like nothing else.
Vincent Bueno: All We Need Is That Love
What a tease – it starts a bit like Robin S Show Me Love , but doesn't get quite so frenetic. There is an unexpected rap in the middle, it has a bit of a beat.
ZOË: Loin d'ici
A bit of French from the Austrians and it stands out a mile in this group. A sweeping violin is heard throughout the song and a pretty decent tune to boot.
So there you have it, Austria is obviously going for maudlin this year.Will miserable be what the juries are looking for – perhaps so – remember it's early days yet, songs can be remixed by May.
In the meantime here's a bouncy pick me up from 1982 with Mess and Sonntag.