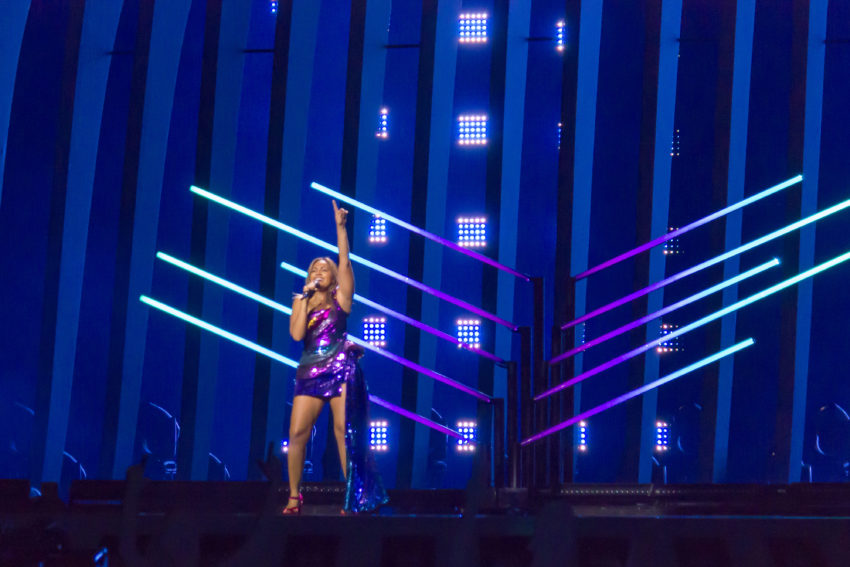 Jessica Mauboy didn't need much to fill the Eurovision stage in Altice Arena. While her We Got Love first rehearsal wasn't filled in with special effects, the singer only needed her voice to get attention.
We Got Love
, which is written by Anthony Egizii, David Musumeci and Jessica herself.
Gallery
Second rehearsal
Opinions expressed during our second rehearsal coverage are personal from the mentioned writers.
Jens Erik, Denmark (in the arena) She's all by herself, nonetheless Jessica Mauboy has a strong and powerful performance in the arena, and the sparkling light looks fantastic. Although all the elements of a winning performance are there – a great song, a strong voice and a powerful performance, there is something missing. But I can't put a finger on what's missing. Hopefully it's found before the live shows next week, as We Got Love is one of my favorites this year. Australia will go to the final for sure, and I expect them to make a top ten.
Josef, Czech Republic (in the press centre) Jessica still keeps the high level of Australian entries. Even though the staging could be more interesting and creative. It seems like Jessica is enjoying it as much as she can. It would be a big surprise if Australia doesn't qualify on Thursday night, as they have one of the most radio friendly songs this year.

First rehearsal
There are a lot of countries who are trying to recreated their respective videos on their performances and Australia is another one of them. With a mixture of purple and blue colors, the stage does feature a prop to make it feel not as empty as Jessica is all by herself during the entire performance.
The Australian singer is wearing a purple and shiny outfit and does execute a few moves (including a few hairflips) throughout her performance but nothing compared to the full on choreography Cyprus presented yesterday, for example. Her act is also joined by fireworks at the end of the show and a lot of silhouette plans that surely works for Jessica.
Also, as expected, the singer did deliver a very good vocal run hitting every right note at the right time. In fact, that was the main highlight of her performance.
How Jessica Mauboy was selected
In December 2017, Australian broadcaster SBS, announced Jessica Mauboy as their representative for the 2018 Eurovision Song Contest. As with all Australia's other participants, she was internally selected. Jessica was already familiar with the contest having performed as interval at the 2014 contest held in Copenhagen, Denmark.
Fans however had to wait until March for the release of the song We Got Love.
Australia at the Eurovision Song Contest
Not being a European country, Australia's participation has been a topic of discussion several times. Their great results however can not be discussed; a second place, a fifth place and a 9th place. Australia has so far never ended outside top 10.
For the 2014 contest, Australia was invited to produce a special interval act performance. Australian broadcaster SBS chose Jessica Mauboy for the task. EBU was enthusiastic about it, and for the 2015 contest, they invited the country to take part as a one-time-only. As it was a special thing, Australia was automatically qualified for the final, and the country could even vote in both semi-finals.
In 2016, the one-time-only thing was forgotten. Australian broadcaster was invited to take part once again, but this time under the same conditions as other semi-final countries – with the exception that if they country wins, the following contest will be hosted in Europe in collaboration with that country's broadcaster.
Dami-Im was close to winning the 2016 contest for Australia as she came second with the song Sound Of Silence.