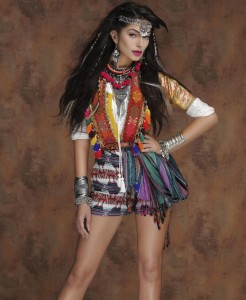 It was announced back in October that Armenia had selected Iveta Mukuchyan to represent it in the upcoming Eurovision Song Contest. It now appears that the Armenian broadcaster's quest for a song for Iveta has been met with success if the number of submitted entries is anything to go by…
'We are completely focused on Eurovision (…) hundreds of songs were sent and as the result of listening we will choose the best song. So, as during this year's Junior Eurovision we had a great creation for Mika, we will be able to organize the works of Eurovision with such (a) positive outlook starting from (the) song selection (and) ending with (the) show. I think everything will be passed successfully (sic)', Gohar Gasparyan, head of the Armenian delegation, stated to the country's main state news agency Armenpress.
As we reported in a previous article, Iveta got to be presented as Armenia's 2016 Eurovision entrant on 13th October, the eve of her twenty ninth birthday. The former Voice of Germany contestant will follow in the footsteps of ambitious project Genealogy, a group consisting of six Armenian singers all but one of whom are part of the Armenian diaspora, who finished 16th with 34 points in Vienna this year.
Armenia in the Eurovision Song Contest
Debuting in 2006, the country has participated nine times in Eurovision, withdrawing from the 2012 contest in Azerbaijan (security concerns due to the Nagorno-Karabakh conflict between the two countries were cited). Armenia has failed to qualify to the grand final from the semi final stage only once, in 2011, and, to date, Armenia's best results are fourth places in 2008 and 2014 with Sirusho's Qélé, Qélé and Aram Mp3's Not Alone respectively.
In the following video, you can watch again Genealogy performing their 2015 entry, Face The Shadow, on the Eurovision stage at Austria's Wiener Stadthalle.