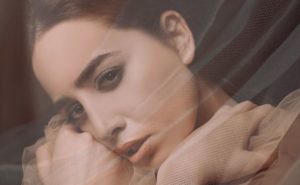 The long wait is over! Armenia broadcaster revealed today the entry which Srbut will compete with at the 2019 Eurovision Song Contest. Can "Walking Out" bring Armenia back into the final of the contest after failing to qualify last year?
We have waited a long time for this day. It was back in November, Armenian broadcaster AMPTV announced Srbuk as their representative for this year's Eurovision Song Contest. She became the first artist known for the contest – and with the song release today, it's one of the last songs to be released.
24 year old Srbuhi Sargsyan performs under the artist name Srbuk. She is familiar with competitions and knows how to do well in them. She took part in X-Factor Armenia and finished second. Later, she went to Ukraine for The Voice where she came fourth.
Following the announcement of Srbuk, AMPTV opened for potential songs to be submitted. The window for that closed in mid January after which an internal committee selected the right song for her to sing in Tel Aviv, Israel in May. Listen to it it, in the video below.
About Waking Out
In a press release, Armenian broadcaster writes that Walking Out is composed by two Armenian music artists "Lost Capital" and"tokionine". The lyrics were written by Garik Papoyan, who also wrote Aram MP3's Not Alone (Armenia 2014).
"When I first heard the melody, visions flashed before my eyes. Events that haven't
yet become memories… I realized that this fight and the collapse of the emotions
inside me have to be reflected in my song. I want to tell myself and everybody else:
"Don't kill love, but don't let it kill you.

Srbuk
The music video has been produced by "Factory Production". About it, Srbuk said: "We wanted to visually portray the emotions within a loving but betrayed heart. When you think you will be filled with joy, but instead there is not enough air to breathe. When you want to share your happiness, but instead you start loosing yourself: your hands are tied, your emotions are overwhelming, you keep pretending just to keep your love alive. But what are you waiting for? How long can you play by these rules? These are the questions and emotions visualized in the music video".
Armenia at the Eurovision Song Contest
With 12 appearances and 10 finals, Armenia is one of the most successful countries in terms of qualifying for the final. The country is yet to win the contest, but impressively seven of their entries finished in top 10.
The best results from Armenia is two 4th places. First time achieved by Sirusho's charming Qélé, Qélé in 2008 and since repeated in 2014 with Not Alone performed by Aram Mp3.
Quite surprisingly to many, Emmy's Boom Boom failed to reach the final in 2011, and last year the same thing happened to Sevak Khanagyan and his Qami.
At this year's contest, Armenia has been drawn into the first half of the second semi-final, which means that Srbuk will first take the stage live on the 16th of May.