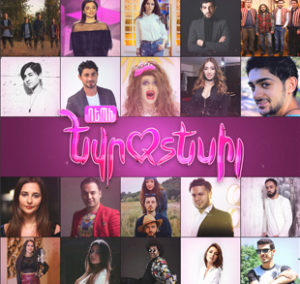 Armenian Television (AMPTV)  have begun to publish the entries for Depi Evratesil 2018. Five entries will be released over the next four days this week.
Depi Evratesil 2018 is the show Armenia uses to pick its Eurovision entry. It will be held on 24 February 2018.
The reveal will be happening over four days.
On January 15 you can hear the songs by Tamar Kaprelian, Nemra, Hayk Kasparov, Amiliya Margaryan and Suren Poghosyan.
January 16 will see the songs from Sevak Khanagyan, Kamil Show, Angel, Alternativ and Tyom.
On January 17 you can hear the songs by Mger Armenia, Arman Mesropyan, Asmik Shiroyan, Zhanna Davtyan and  Harutyunyan.
On January 18 the songs by Robert Koloyan, Maria's Secret, Lusine Mardanyan, Mariam Petrosyan and Gata Band will be announced.
They can all be heard on the official Depi Evratesil Channel.
 Armenia In The Eurovision Song Contest
This will be Armenia's twelfth time in the Eurovision Song Contest, They debuted in 2006 and opened the first semi final. André sang Without Your Love and finished in 8th place. Their best positions to date have been fourth with Sirusho in 2008 with Qélé, Qélé and Aram mp3 in 2014 with Not Alone.
Armenia has finished in the top 10, on seven occasions. Last year they were expected to do that again. In the end, they finished a disappointing 18th place with Artsvik and Fly With Me.  Below, you can watch the full stage recording of that entry