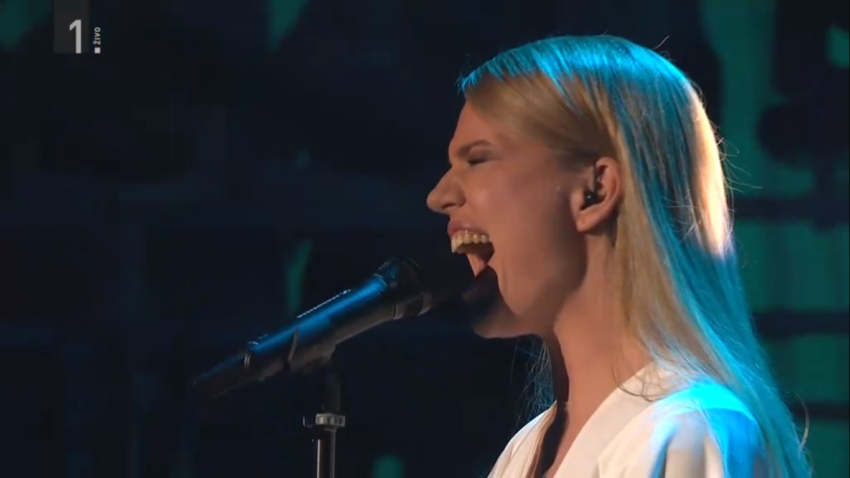 Ana Soklič has gotten a second chance to perform at the Eurovision Song Contest. Slovenian National Broadcaster, announced this evening, that she will also represent her country next year. Ana herself feels honoured, but she also know that she has a lot of work ahead of her.
Ana Soklič was chosen to represent Slovenia at the 2020 Eurovision Song Contest, which unfortunately was cancelled due to the COVID-19 pandemic in Europe. Her selection for 2021 instead was made in Slovenian TV show "Zabava in slog", that was transmitted just before "Europe Shine A Light" this evening.
I am very honoured and happy. I will do my best. I have a lot of work ahead of me. I feel a huge responsibility to represent Slovenia in the best possible way.
It hasn't been announced yet, how Slovenia's entry for the next edition of the Eurovision Song Contest will be selected.
Who is Ana Soklič?
36 year-old Ana Soklič developed and refined her musical skills at the local opera and jazz academy from a young age, before she began to write her own music. Ana competed twice at the Slovenian national selection for the Eurovision Song Contest, EMA (2004 and 2007). Furthermore three times at the Slovenian Song Festival, where, in 2019, she won two jury awards for the best interpretation and best song overall. Back in 2012, she participated in the only edition of X Factor Slovenia, where she finished fifth overall.
In Rotterdam this year, Ana was supposed to perform the song titled Voda (Water) after winning EMA 2020. She wrote the lyrics to the song herself, and composed it together with Bojan Simončić.
Slovenia in the Eurovision Song Contest
Slovenia has participated in the contest 25 times since its debut in 1993. Their best result in the contest is 7th place in 1995 with Darja Švajger (Prisluhni mi) and 2001 with Nuša Derenda (Energy). Since the introduction of the semi-final round in 2004, Slovenia has failed to reach the grand final on ten occasions, and made it to the final in 2007, 2011, 2014, 2015, 2018 and 2019.
In the video below, you can listen to the rewamped version of Voda