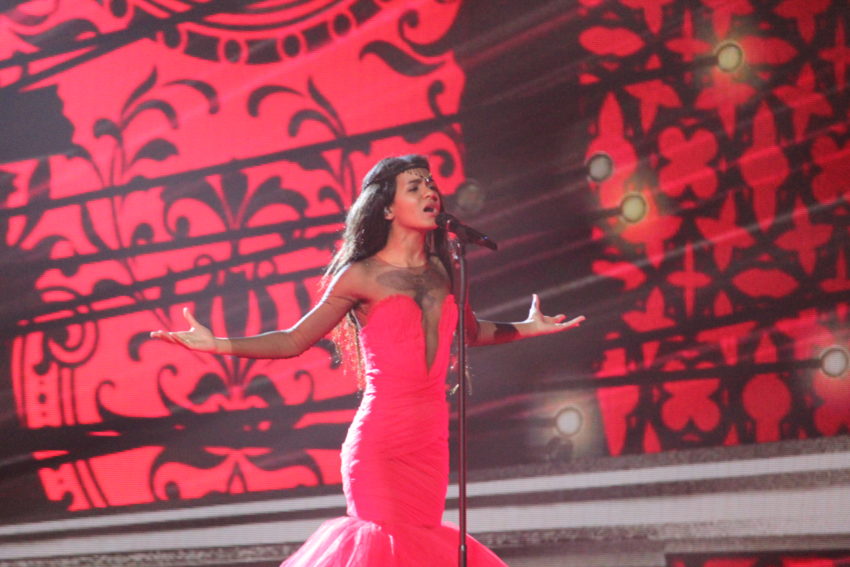 Aminata, who reached sixth place for Latvia in the Eurovision Song Contest 2015 is trying her luck now in The Voice of Russia. We saw her perform a familiar song in the latest episode of the blind auditions. Aminata gave a marvelous performance of one of Polina's Russian songs, and qualified to the next phase of the show, joining her team.
This is the fifth season of the very succesful talent show The Voice of Russia. Two former Russian Eurovision participants sit in the coaches' chairs. Dima Bilan who is the only act so far to bring Russia a Eurovision victory, after winning with the song Believe in 2008, and Polina Gagarina who came second last year in Vienna with A Million Voices. They join forces with two other Russian superstars Gregory Leps and Leonid Agutin in order to find the next Voice of Russia.
In today's second episode of The Blind Auditions we saw another ex Eurovision participant, Aminata, who in 2015 achieved the best place for her country in the last decade, with her entry Love Injected. Aminata decided to perform a Russian song which translates to "I'll Never Forgive", and afterwards she sang the Russian 2015 entry which was performed by Polina Gagarina who is now one of the coaches of the show. With her voice, Aminata made Polina and Dima both turn their chairs and try to claim her in their teams. Polina was surprised when she saw her as you can see in the video below and said that she met her at Eurovision Song Contest last year and she fell in love with Aminata's 'cosmical voice that knows no borders. 'Eventually Aminata decided to join Polina's team, maybe because she already knows her from the last year's Eurovision Song Contest.
The video with Aminata's competing song in The Voice of Russia can be seen below: