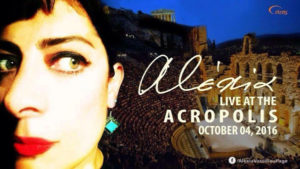 Double Eurovision participant Alexia will sing a selection from her 30 year long career at a concert at the Herodium Theatre in Acropolis, Greece on the 4th of October. The concert named Alexia LIVE in Acropolis is going to be a production which will present her big career very well.
Alexia Vassiliou is a Greek-Cypriot International Conceptual Artist, Singer, Composer, Lyricist, Filmmaker and Producer. Known also as Alexia, she began her career in 1981, at the age of 17, as a singer. She graduated from Berklee College of Music. Alexia has collaborated and continues to collaborate with some of the world's greatest musical legends Including, Mikis Theodorakis, Chick Corea, John Patitucci, Stevie Wonder, Chaka Khan, Andreas Vollenweider, Milva and many other talented musicians from around the world.
She has released, in her 30 years career, more than of 35 albums. She represented Cyprus twice in the Eurovision Song Contest. First time in 1981 with the group, 'The Island', where they placed 6th with their song, Monika. Second time in 1987, as a solo artist, where Alexia placed 7th with her song, Aspro-Mavro.
Alexia will be accompanied in the Acropolis concert by a large string orchestra, wind instruments and percussion, with excellent soloists, involving old collaborators, musicians, conductors and interesting vocal groups. You can buy tickets for this special concert in Acropolis from 15 € in vivatickets.
In the video below you can watch Alexia's rehearsals for the concert which includes her second Eurovision entry Aspro-Mavro in a more contemporary version: